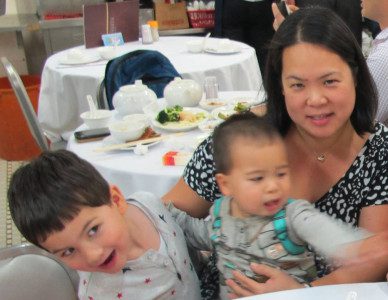 This post has been sitting in my drafts for a couple of weeks now and I keep meaning to finish it off and hit the big "publish" button – so here we go.
1. A night flight that is a close as possible to your children's bedtime
We flew out of London Heathrow at 10.30pm which I thought would be a good idea as the boys would just sleep. However, in reality, it was too late. M was really overtired (read about his overtiredness here) and the plane was delayed so we didn't take off until 11.15pm by which point M was screaming.
We did have a much better experience on the journey back as it was closer to M's usual bedtime and he promptly nodded off in my arms (phew!)
2. Change them into their pyjamas before boarding
Obviously, this applies if you are on a night flight. I wanted the boys to be as comfortable as possible, I was even tempted to put pj's on myself! (I compromised and wore leggings and a loose top)
Heathrow Terminal 3 has a fantastic family lounge complete with soft play area, game zone, a quiet zone for the kiddies and a Costa Coffee machine for us parents. We spent our time before boarding here. The boys played happily before we got them in their pj's.
Another top tip when flying long haul? Pack antiperspirant wipes so you can freshen up!
3. Pack LOTS of snacks
This was a given for me – my boys are always, always hungry. I do normally try to limit the number of sweet sugary things they are allowed but when you are stuck in confined space for what seems like a life time anything goes! They munched their way through numerous amounts of biscuits, shortbread, sweets and crisps. (M turned his nose up to rice cakes when he cottoned on that there were tastier things on offer!)
4. Ask for a window seat
I know the standard thing is to ask for a bulkhead seat for more legroom right?  Mr H insisted E would like a window seat so I sat in the middle by the aisle with M. This turned out to be a good decision as it meant I was able to get in and out easily at any given time – as was hubby if he needed to take E to toilet. I'd forgotten how much waiting around there is: you wait to board, you wait for all passengers to board and sit down, you then wait for the plane to take off – that's a lot of waiting for children. The window seat was a good distraction for the boys, it gave them something to look at. It also meant M had somewhere else to go other than on my lap which gave me a few minutes peace!
5. Anticipate that thing won't run smoothly
Be prepared – children are unpredictable and will surprise you when you least expect it! So yes, if things don't go as planned  – keep calm. People staring at you because your child is screaming? You won't ever see them again so just do your best to calm your child in the best way you can. And if things do run smoothly or better than you imagined? Well, then that's a bonus!
What do you think of my top 5 tips? Have any of yours to share?