It's been a long year…we've all had to take on the role of teacher for months on end, and it's been tough for everyone. Thankfully school's in the UK have now re-opened, allowing children to be back in their rightful setting to learn and have fun. However, with Easter coming up in just a few weeks' time we need to start thinking about how we can entertain them. With lockdown in place, we're still limited with what we can do, so we need to come up with ideas to keep the kids entertained over the Easter holidays.
We have been recently introduced to Osmo, an educational games system that is used in conjunction with an iPad or Amazon Fire. Read on to find out what we thought of the system and why we think it would make a great gift for the Easter holidays.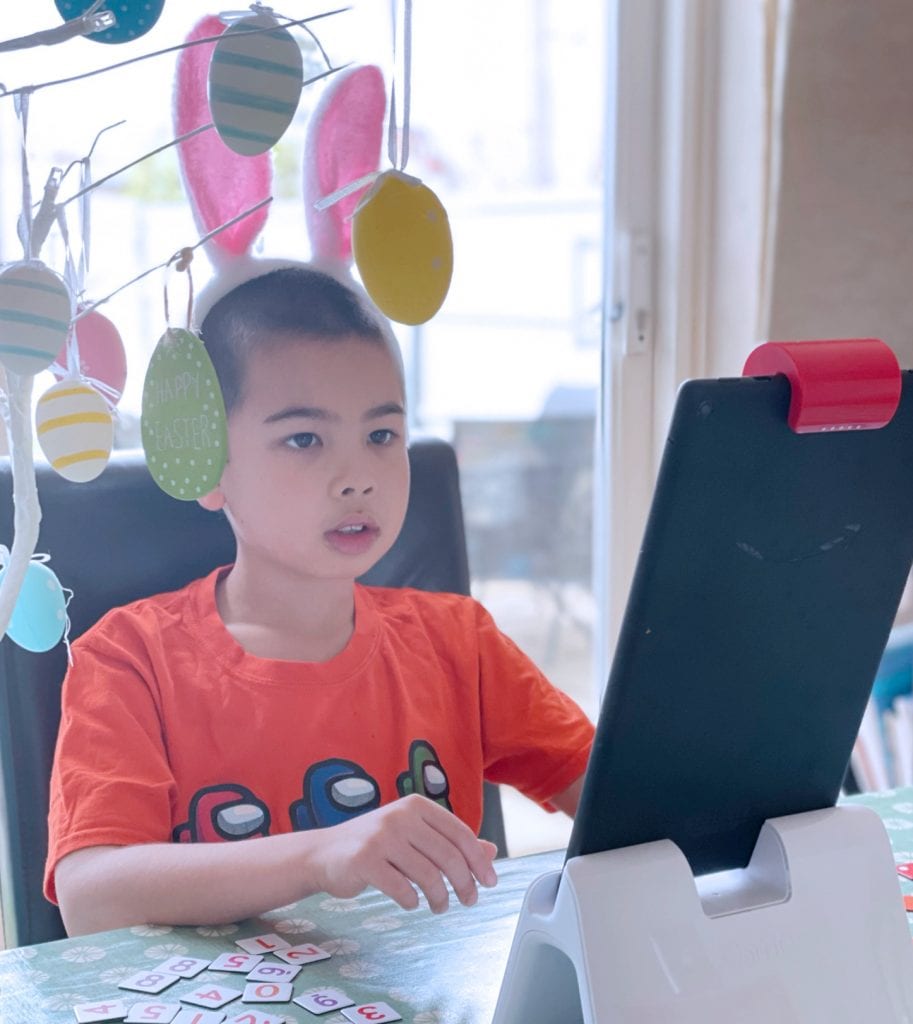 About Osmo
Osmo engages children with fun but educational, interactive games. It uses clever technology that brings physical toys into the digital world and is suitable for children aged between 5-12.
How does Osmo work?
Osmo works by popping either your iPad or Amazon Fire tablet onto the base provided. You then pop the Reflector on top over the device's camera so that it reflects your play area back to the camera and is then replicated on the screen. Osmo has a range of Starter Kits and Add-on Games. If like us you're new to Osmo, a starter kit is probably the best place to start as this will have everything you need to set up and play.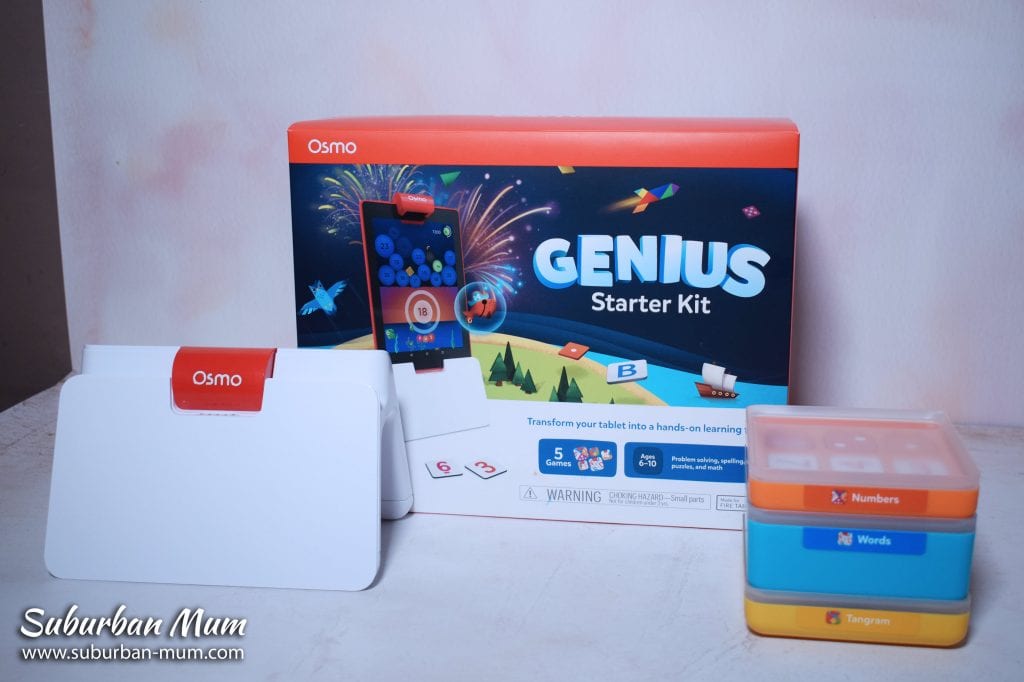 Osmo Genius Starter Kit for Fire
We were sent the Osmo Genius Starter Kit which is suitable for children aged 6-10. There are also kits suitable for younger children aged 3-5 and 4-10.
The Genius Starter Kit comes with:
Osmo base and Reflector for either iPad or Fire
Tangra Pieces
Numbers Tiles
Words Tiles
The different game pieces come in brightly-coloured sturdy, stackable boxes which definitely got the thumbs up from me, anything to keep things neat and tidy is always a good idea. I also liked the simplicity of how the kit came packaged.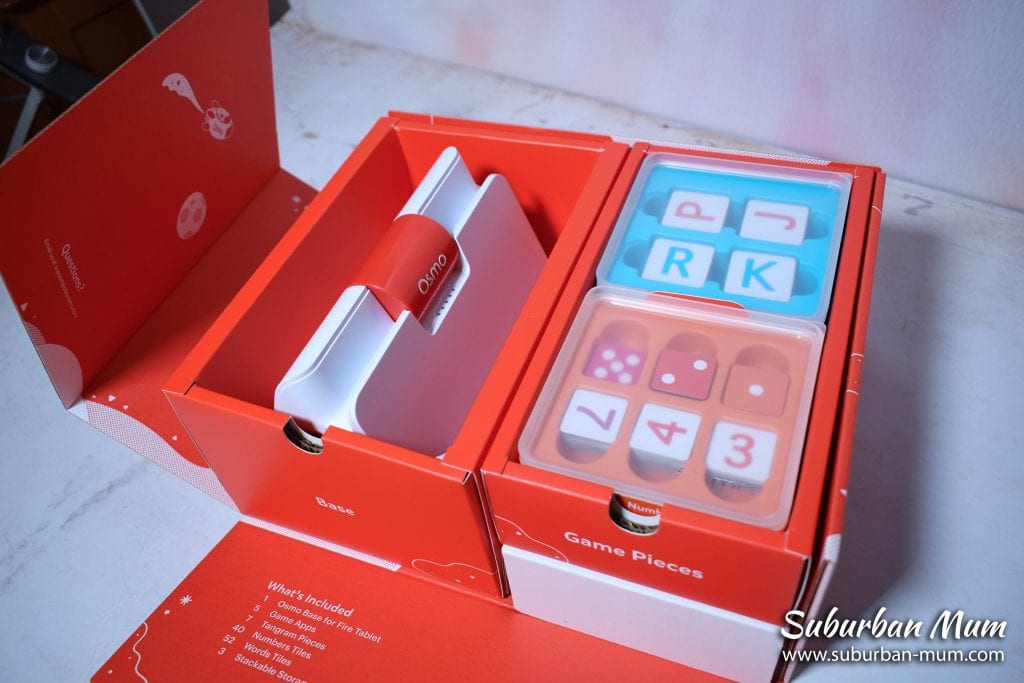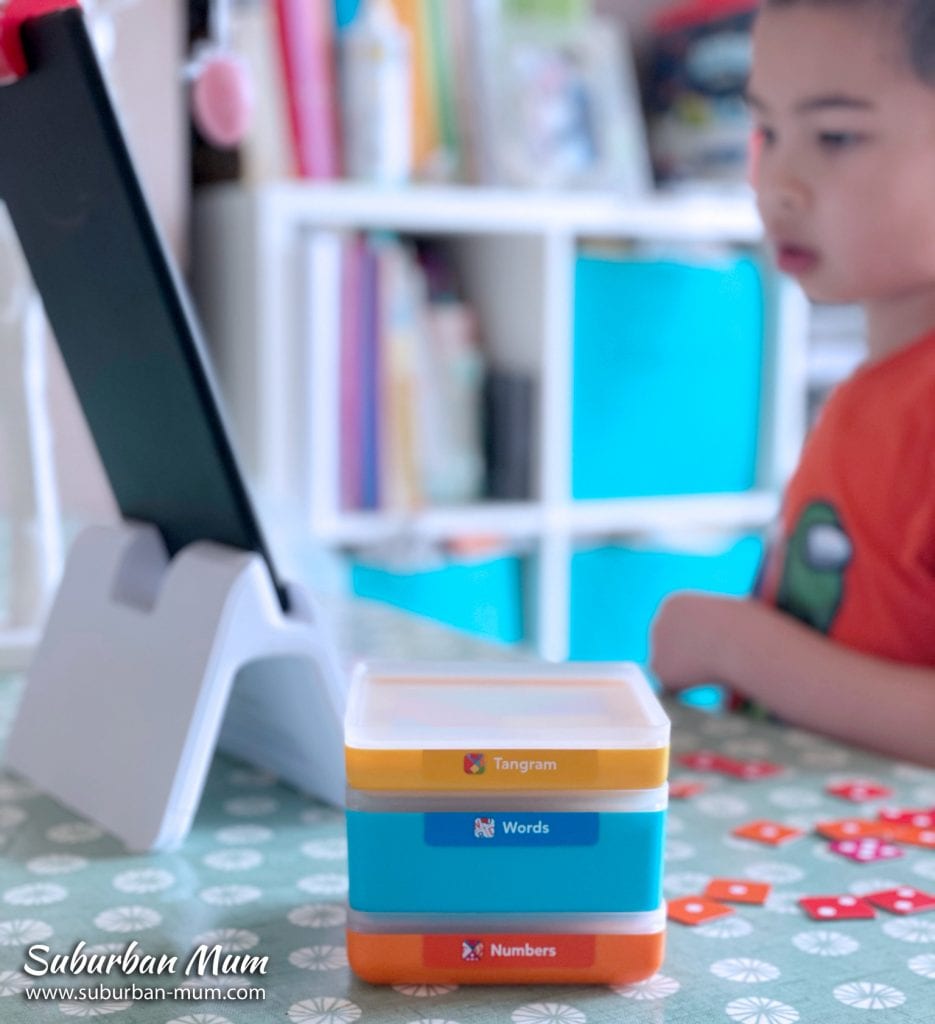 The Genious Starter Kit comes with 5 downloadable apps:
Tangrams
Words
Numbers
Newton
Masterpiece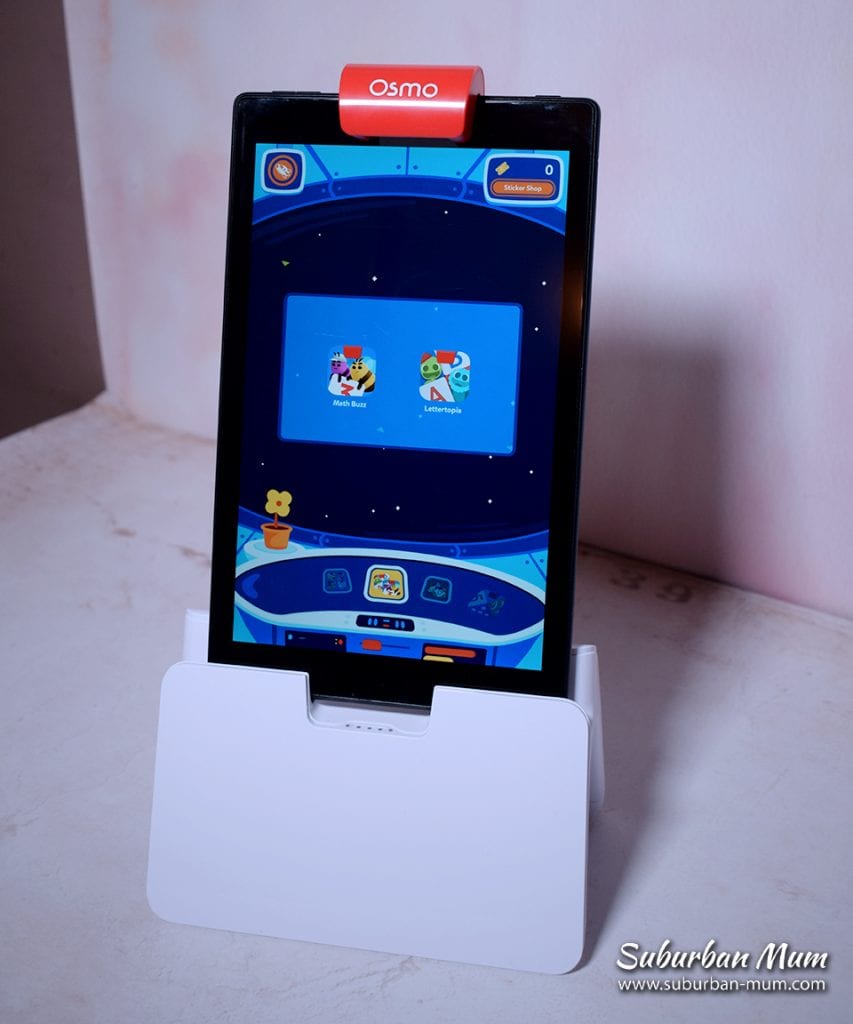 It was easy to follow the instructions to download the Osmo app and games, this process took less than 10 minutes. You do have to sign up for an account using your email address so that Osmo can save your progress, you can also set up different profiles for each child which is really useful if you have children of different ages (mine are 8 and 10). This will ensure they play the Osmo games at their appropriate level. There's also a Parent app you can sign up for so you can track your child's progress.
Playing with Osmo
Tangrams
The aim of the game here is to match up the shapes with what you see on the screen by arranging them in the correct order. Every time you place a shape correctly, the shapes will light up on-screen. You can play with a friend or challenge yourself as the difficulty levels increase as you play on.
The boys really enjoyed playing this game, it may look easy at first, but you have to ensure the shapes are around the right way and lined up before you can move on to the next levels. It looked so much fun that even I had a go too, it's great for honing your problem-solving skills and exercising your spatial awareness.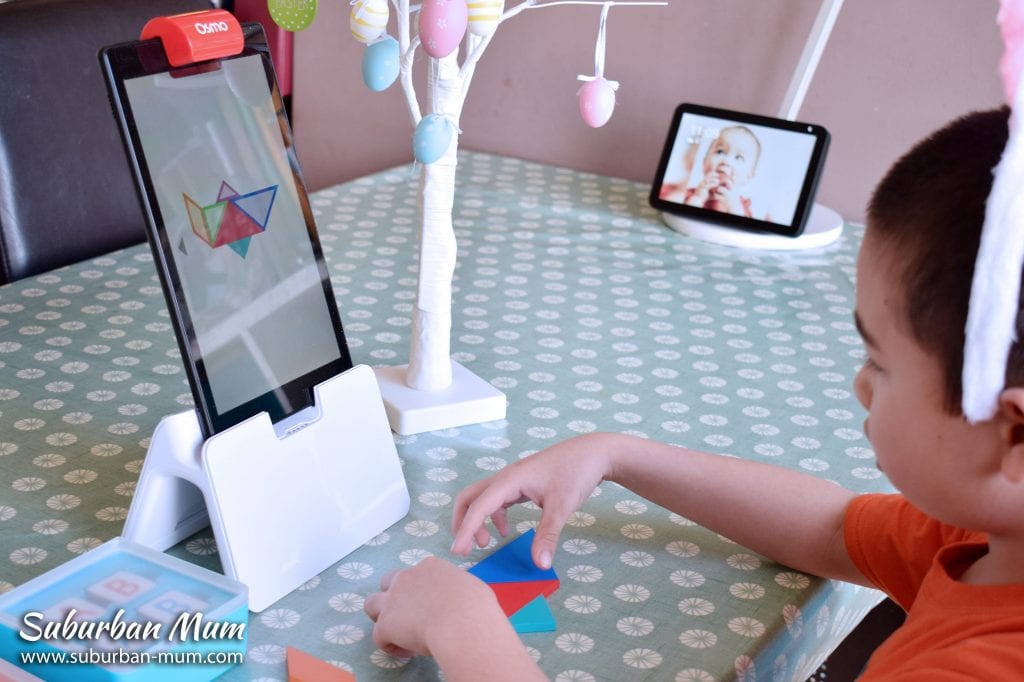 Words
Like with Tangrams, there are different levels set depending on your age group. E had a play with the Words game and had to spell out the item on screen. You can play with a friend or family member and challenge your favourite Osmo character. There's over 150 puzzles, so it's a great way to improve your spelling skills.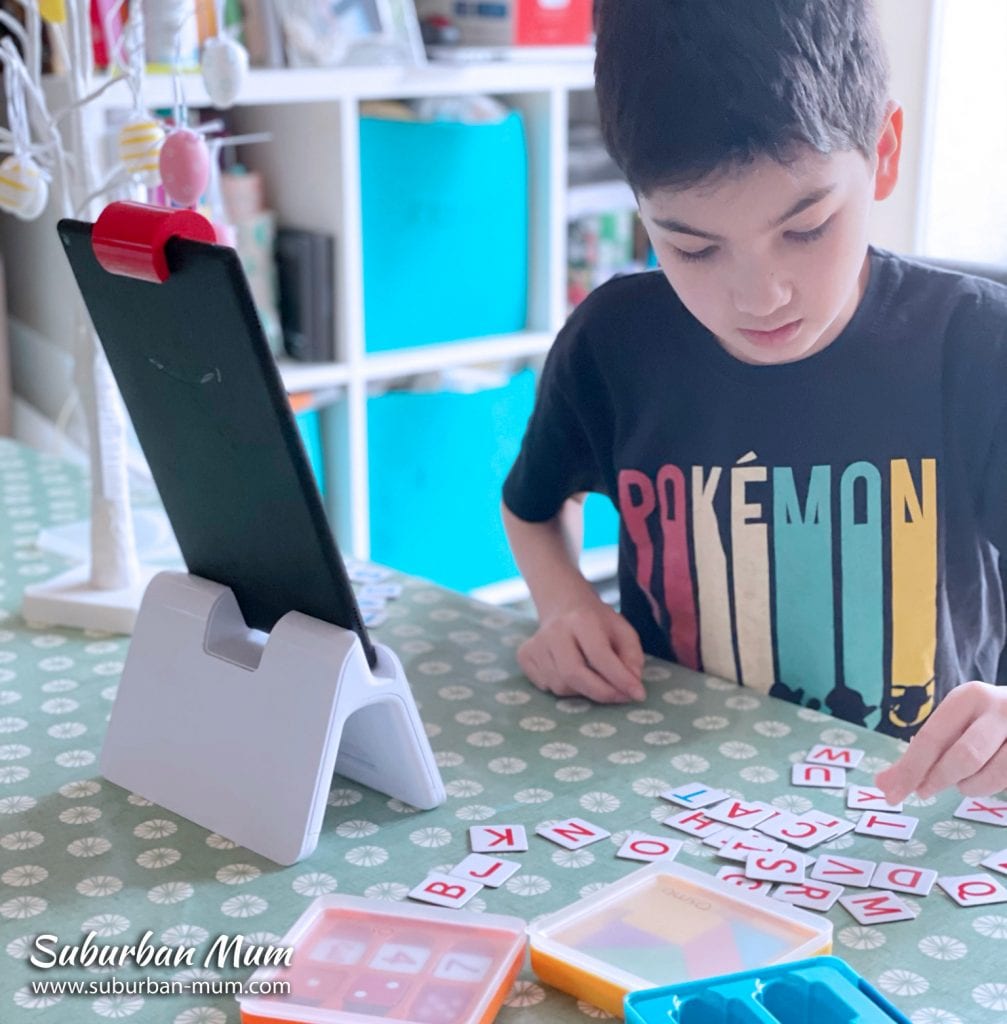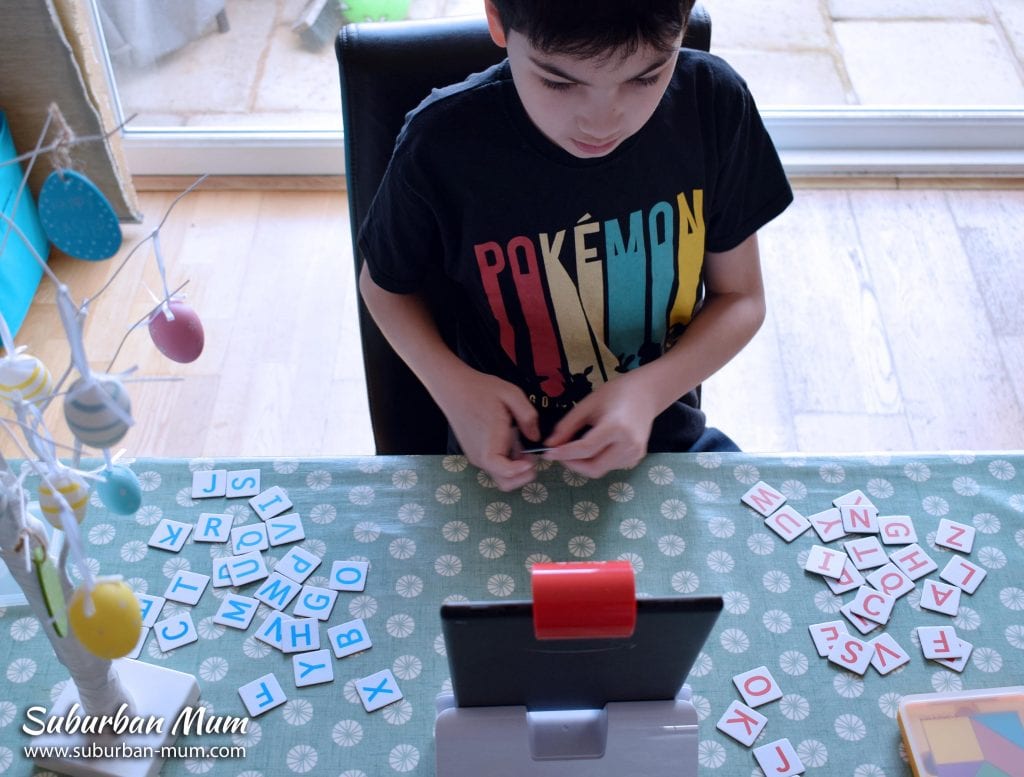 Numbers
The aim of this game is to collect all the fish by unlocking all the levels and achieving as high a score as possible. This involves finding either dots or numbers that can correctly match up with what you have on-screen. To get increase your score, you can pop the bubbles that pile up in the fish tank. These pop when if you match the number inside the bubble. There are four different game modes in Numbers: Count, Add, Connect and Multiply, and each mode has 8 levels. M really enjoyed playing Numbers. He definitely favours numbers over English any day, so this was right up his street. I like the fact it stretches his brainpower by having to think laterally.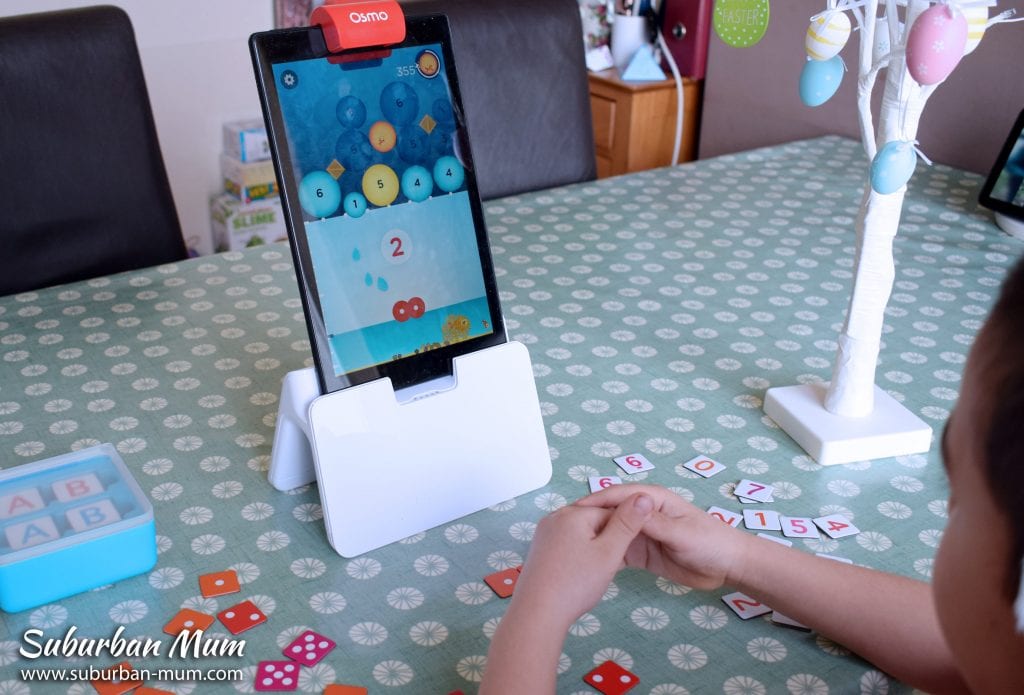 Newton
The object here is to guide the balls on your device and stop them from falling. To do this, you can draw lines on a piece of paper, use Tangram pieces or even toys and objects to bounce them into balloon-targeted zones – the more creative you get the better!
Masterpiece
Masterpiece allows you to take a photo of something you'd like to draw and it will simplify the photo into lines so you can easily create your masterpiece. Both boys love drawing and will regularly look for things online to print and copy. This brings a fun and different aspect to that. I also like the fact that the app will also record a timelapse video of the drawing process too so you can look back at how you created your drawing.
Choose Osmo, the Award-Winning Educational Games system this Easter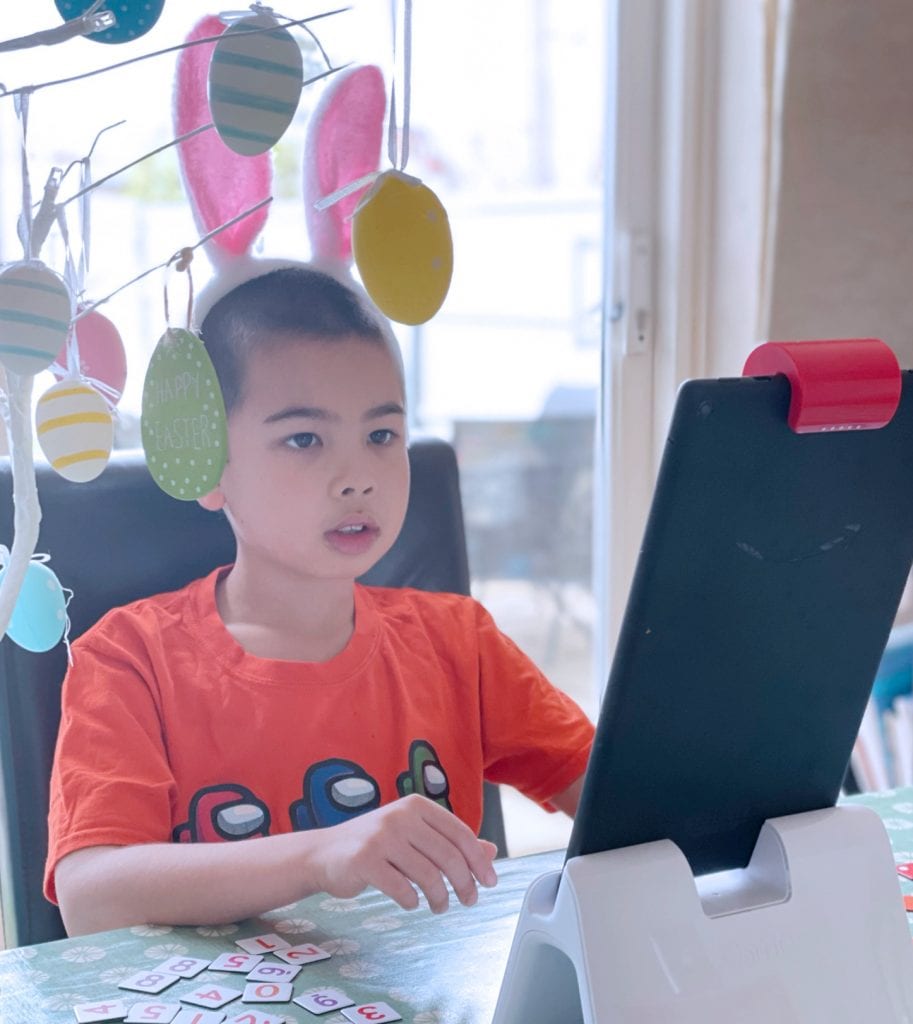 The boys were so egg-cited to try out Osmo and after testing it out, they have both given it a huge thumbs-up. It's creative, fun and is packed full of features that will keep them entertained for hours. The Osmo Genius Starter Kit currently retails around £90 (depending on which base you require) and I really do think its worth the money. I can't think of many educational games and apps that allow the use of screens and tangible pieces for hands-on learning. Knowing that the boys are having fun and learning at the same time is a big win for me.
Osmo is available to buy online from Amazon, John Lewis and direct from the Osmo website and would make a fantastic gift for the Easter holidays. Hop over to their website to find out more.
You might also like: