With just a few weeks left of E's first term at big school I thought I'd write a post about how he's been getting on since the start of September.
There were so many things I was worried about before he started. Starting school is one of the first big steps they take into the big wide world of "independence" and it felt strange not knowing what he was doing for 6 hours of the day. What was he was having for lunch? Who did he play with? Did he sit still long enough in class to listen to his teacher?
E is a May baby so one of the younger ones in his class. Back in the summer I worried about whether he was ready for school. He didn't have any interest in writing (or sitting down with an activity for longer than 10-15 minutes) I did find, as with most children starting school that E was very tired at the end of the school day and would get very emotional easily over the smallest of things. I had been advised early on not to organise any extra-curricular activities or play dates for the first half of the term and I'm glad I stuck to it.
Reading
The school are very hot on reading and we were bringing home books to read every day from the start. One book for E to read and one for us to read together. Although he loves books and his bed time story, we did initially struggle with phonics/learning to sound out letters and then attempting to blend them to make a word.
On occasion, E was so tired he just was not concentrating so we would just talk about the book itself instead and look at the pictures. We also changed our evening routine up a bit. Before, we would sit down and read together at the dining room table after dinner but this just didn't seem to work. E would not sit still and was distracted with M running around the place, so we started to read just before his usual bedtime story when both boys were ready for bed and calm.
This worked much better and M's concentration has also improved and will now sit on my lap and listen to us read. In the last few weeks it's like something has clicked with E and he has been sounding out and blending his words beautifully and needing very little assistance, he has also just been moved onto the next book band. (his school follow the Oxford Reading Tree) I can't quite believe how far he has come in only a few months.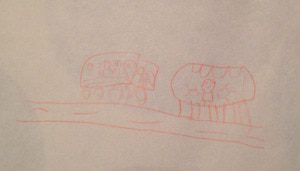 Writing
I remember just before E finished nursery we had a Parent's evening to talk about how he was getting on and whether either party had any concerns. My main one was the fact that he was not interested in letters and could not write his name. (many of his nursery friends could do this already) He then suddenly developed a real interest in drawing though and did so regularly throughout the summer and low and behold, he learnt to write his name just before starting school.
Concentration
E's concentration has improved loads, he will now sit down for a good hour or so drawing/writing or playing with play dough. I don't know about other mums who have boys but mine rarely sit still for very long so it's really nice to have some relatively "quiet" time! He has also taken more of an interest in crafting activities which is a real welcome change to him charging around the house being a (noisy) dinosaur!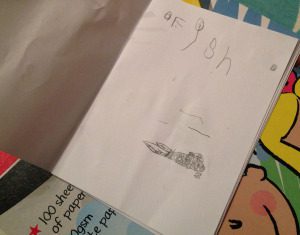 Imagination/Role play
One of his favourite games at the moment is pretending to be a Cafe/Restaurant owner. He asks me to help him make a menu out of sheets of paper and he will then draw items of food and attempt to write the names next to each item so I can order what I would like for dinner. He then prepares the food and if I've requested fish he tells me he needs to clean the fish and gut it (all very detailed!) I do hope he keeps this up when he's older so I can hang up my kitchen apron and let him take over!
His other favourite thing to do (usually when M is napping) is to create a huge train track that takes up the entire living room floor and goes into the dining room (yes we do have that much track!) and when that's done he will then re-enact various train crashes. I love this role playing with imagination.
All in all, it's been so far so good. We still have the usual "listening" problems where his ears are not turned on when I ask him to do something but generally school has brought on many positive changes and E is obviously soaking up a lot of information at school. He even told me about diagraphs and triagraphs the other day!
If you have a pre-school child and are worried about their progression like I was with E – relax. It seems they all do things when we least it expect but they do eventually get their in the end!
Have you noticed any positive changes in your children since starting school?
I'd love to hear about them – leave me a comment!