We regularly head into the capital for days out. It's one of the things I love about living so close to London. We're still yet to take the boys to the usual tourist attractions. We took them on a walk around Westminster, Downing Street and Trafalgar Square last year but they've not seen much else.
When we were invited along to review London Duck Tours I knew it would be something the boys would be excited about. In fact, E had seen the bright yellow vehicles around London before and had asked if we could go on one.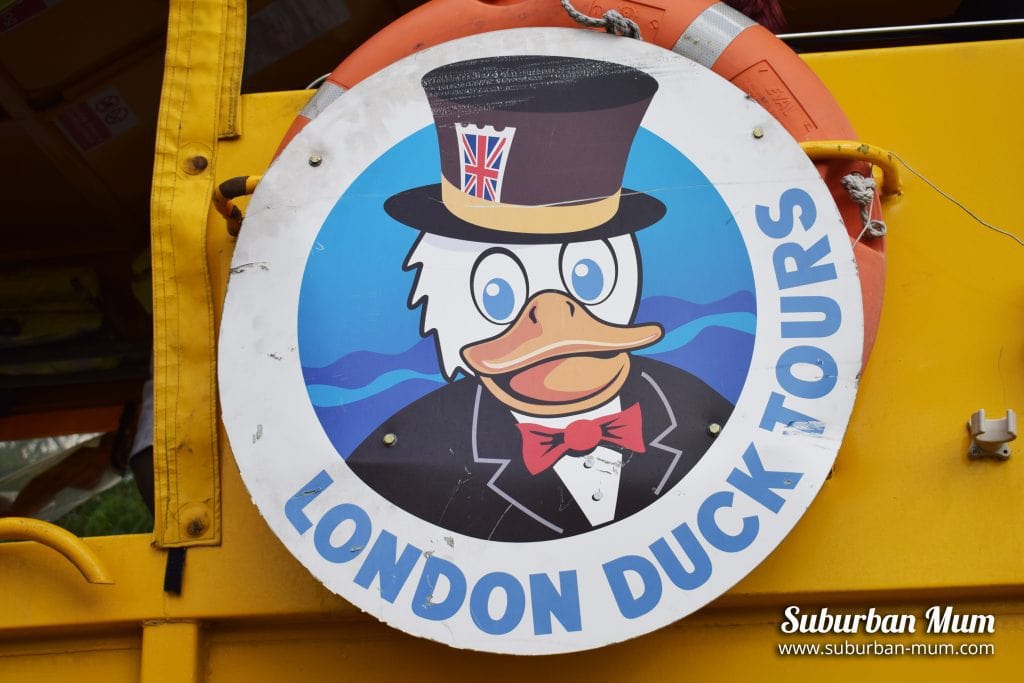 London Duck Tours
If you've not heard of London Duck Tours before, they are a sightseeing tour where you travel around London on a DUKW (also affectionately known as Ducks). The vehicle isn't just a standard bus though – it's amphibious and transforms into a boat that heads into the river Thames!
The ducks were originally used in the Second World War but have been repurposed for sightseeing purposes. With their eye-catching bright yellow colour they are very easy to spot on the streets of London.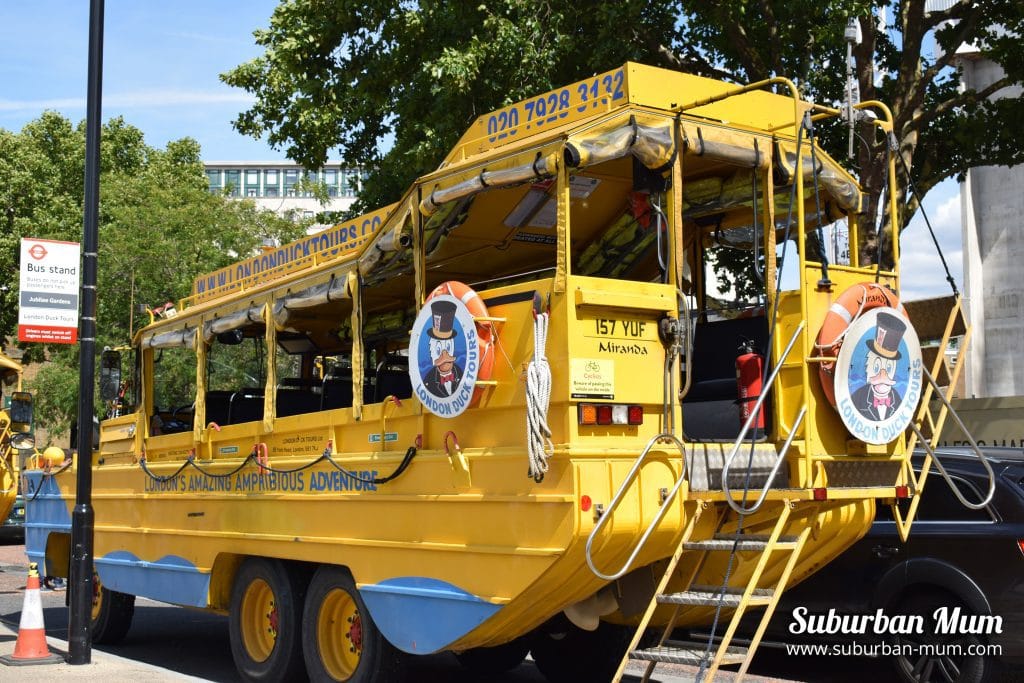 Our experience of London Duck Tours
There are a few different sightseeing packages available with Duck Tours. We were booked in for the "Classic Sightseeing Tour" which took us around the best-loved sights of London.
You board the start of the Duck Tour on Belvedere Road which is a short walk from Waterloo and The London Eye.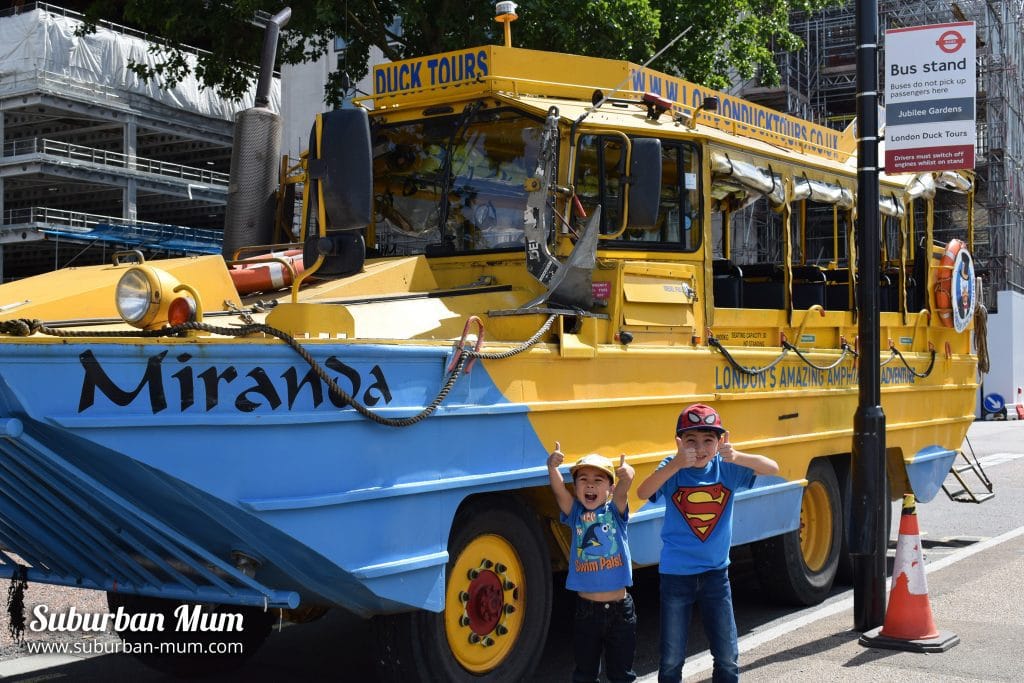 Tickets can be booked in advance online and it's best to turn up at least 15 minutes early so you can check-in. They allow people to board based on who checks in first so it's definitely worth making sure you are early so you have a choice of where to sit!
We were given a full safety talk at the start of the tour and were shown where the life jackets were in the unlikely event we needed to use them. We found the seats to be comfortable and depending on weather, there were covers that could be pulled down too.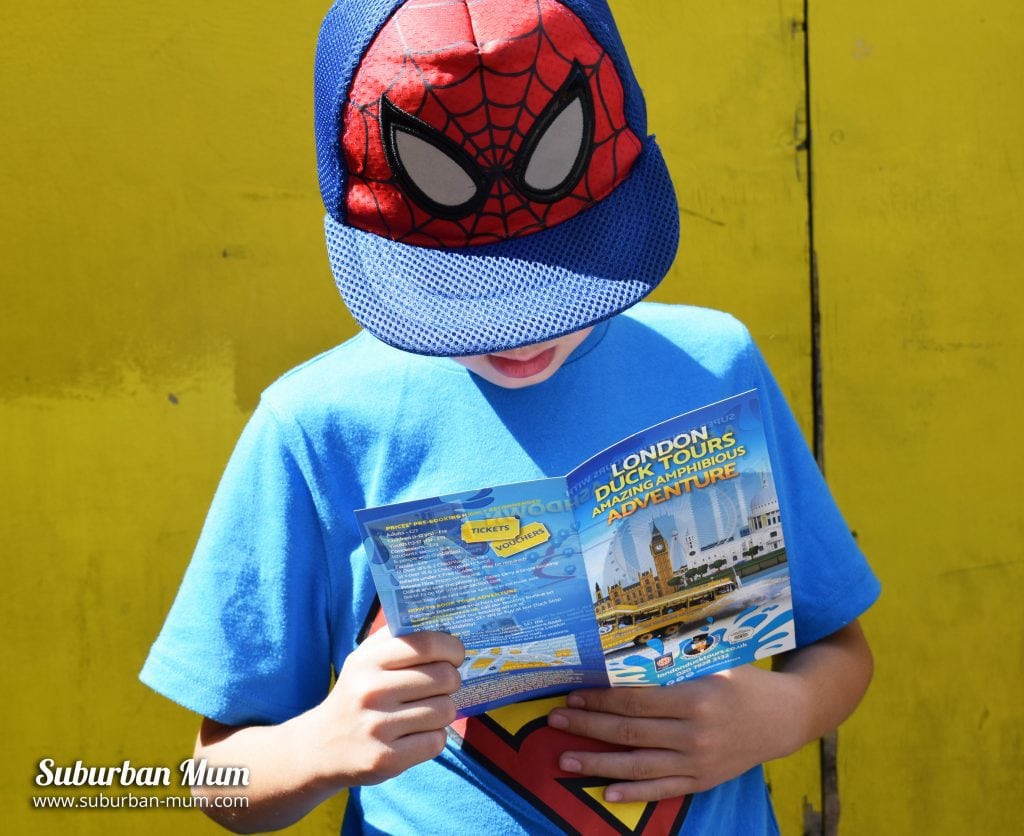 The total duration of the tour lasts 1 hour 15 minutes and there is a tour guide on board who gives a running commentary on the landmarks you drive past.
Our tour guide was brilliant and very friendly. He told us some great stories and lots of interesting facts as we went around London.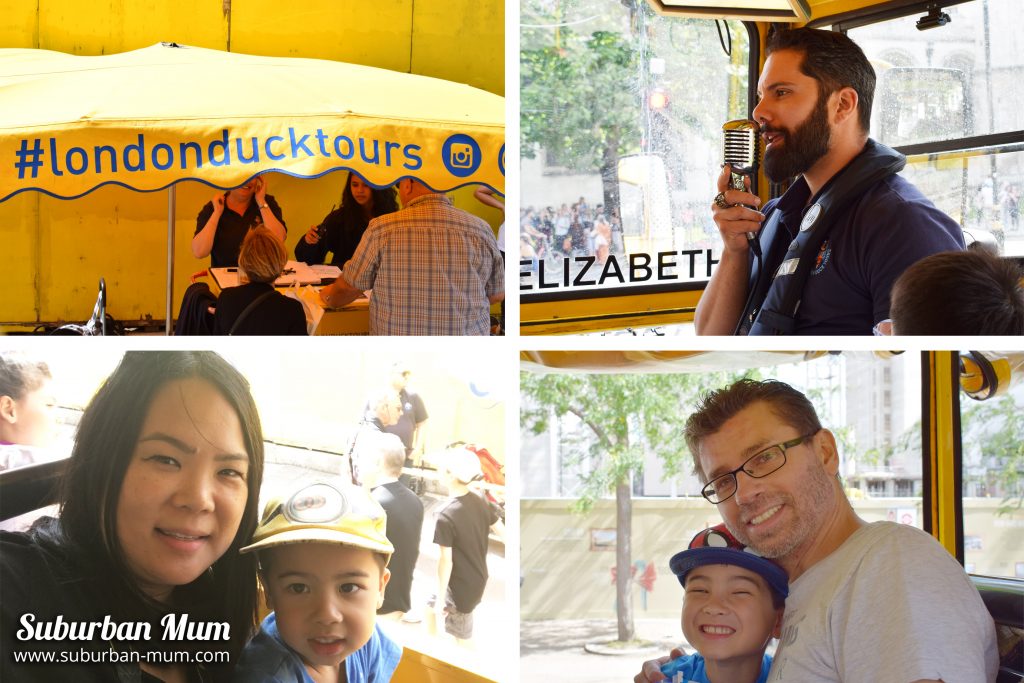 Here are just some of the things we learnt:
Westminster Bridge is the second oldest bridge in London
Parliament Square was London's first roundabout
Nelson's Column is 170 foot in height – the same height as his mast
The London Eye has 32 pods – same as the number of boroughs in London
The classic tour takes you around some of the main sights of London such as Big Ben (our tour guide reliably told us that there would be no chime due to restoration works), Nelson's Column and Buckingham Palace. Our guide also pointed out some of the lesser known sights too.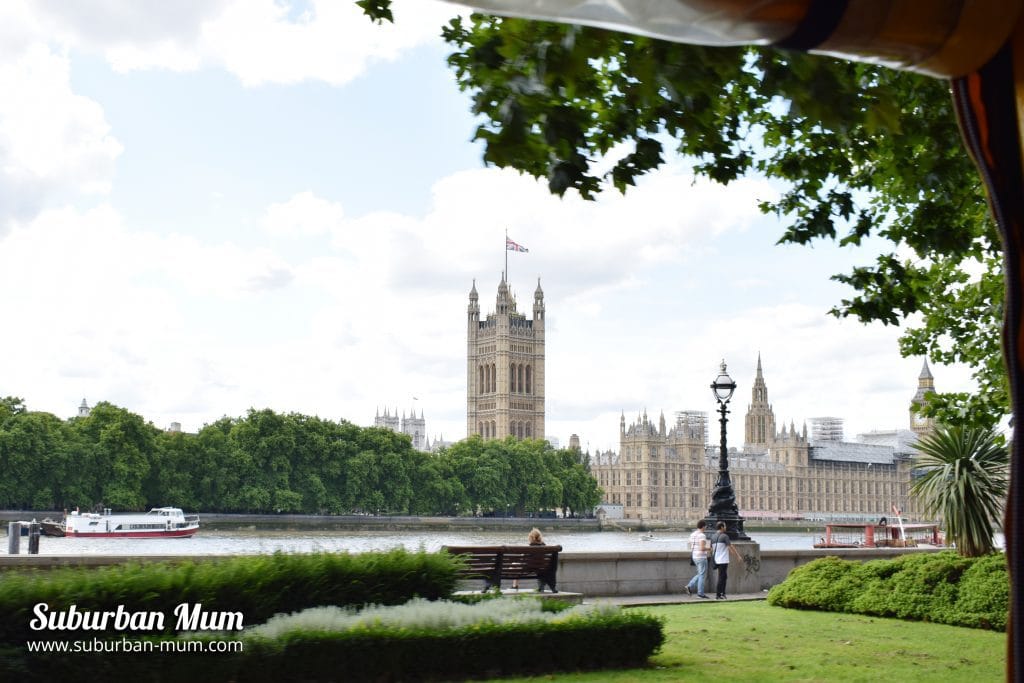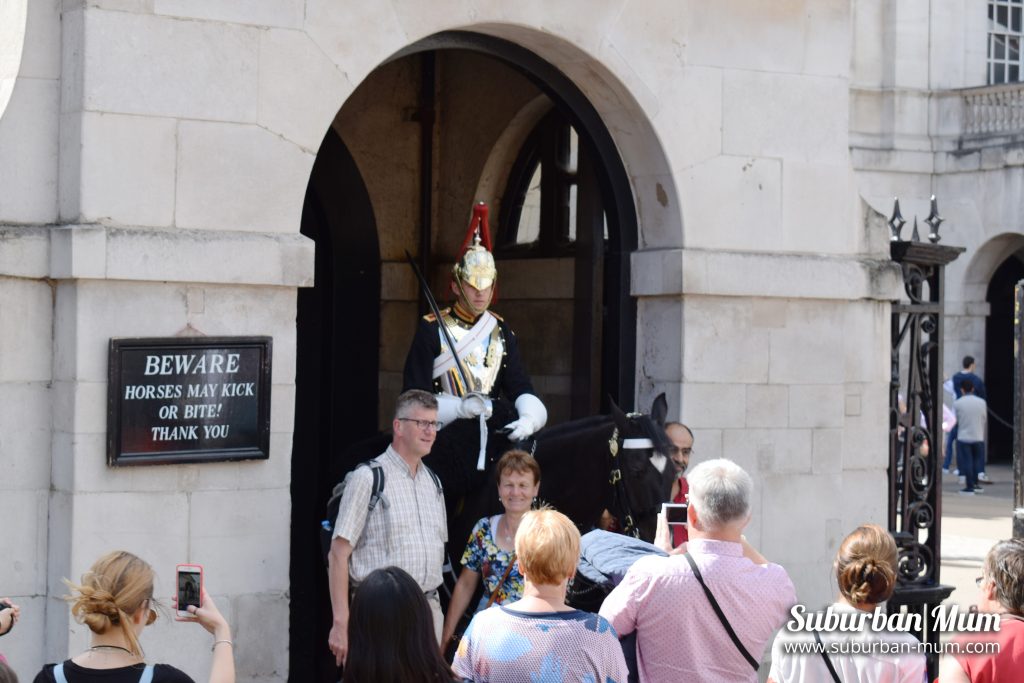 As the tour draws to an end, the Duck takes you past the MI5 and MI6 building in Vauxhall before there's a change of drivers to head into the Thames. This was the part the boys had been waiting for!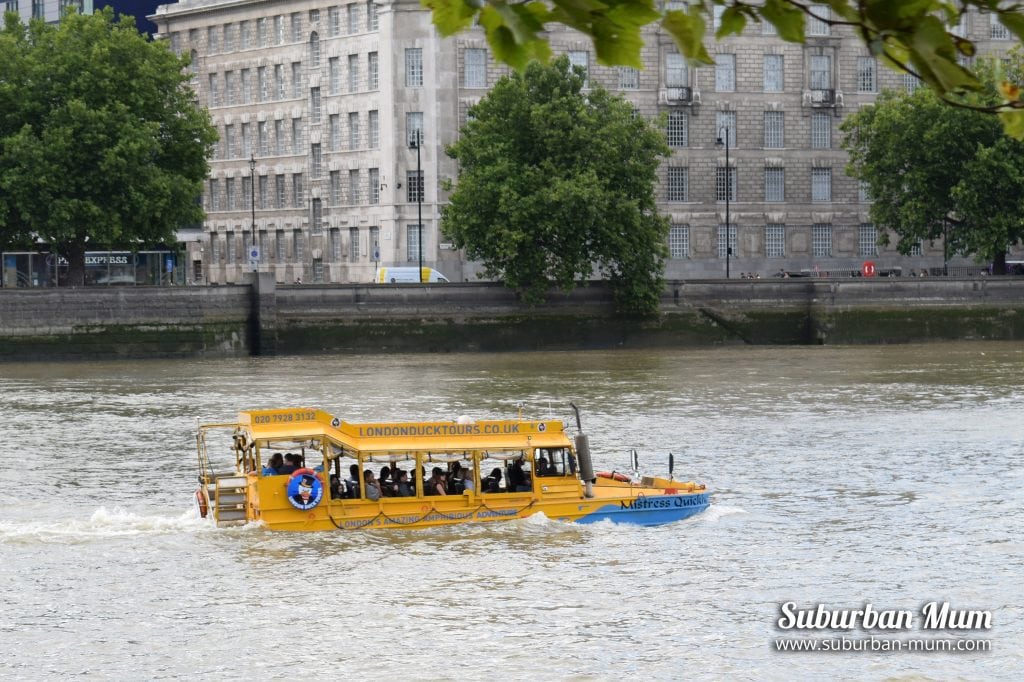 We were a little disappointed that there was no commentary on the boat but the boat is a little noisy in the water so I guess it made sense for the tour guide not to shout. We still enjoyed the trip down the Thames and had fun taking in the views.
I would highly recommend Duck Tours for families. It's great fun – especially the part when you get to go into water and it's a unique and fun way of sightseeing around London without having to do much walking!
Tickets for a family of four start from £79 and can be pre-booked in advance online.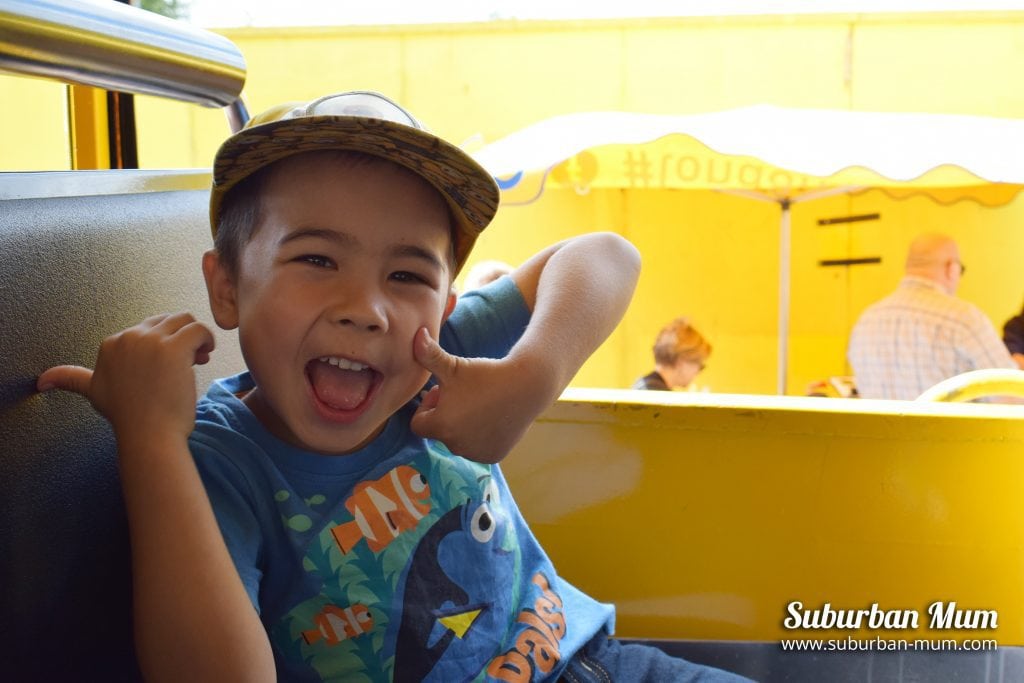 * We received tickets for London Duck Tours in exchange for this review.