Back in the Summer holidays, we were invited to dine at Turtle Bay in Staines. As a family we love nothing more than eating out and trying new things so we were very excited to be able to go and sample some spicy food!
Turtle Bay is a Caribbean restaurant famous for rum, reggae and jerk, we visited their Staines branch which newly opened in June.
The restaurant is easily located just off the main High Street and there are car parks within 5 minutes walk. On arrival to the restaurant, we could instantly see from the bright decor that it looked like a fun place to be. Reggae music was playing and it really felt like we were on holiday! There is a bar in the centre of the restaurant where you could have drinks whilst waiting to be seated.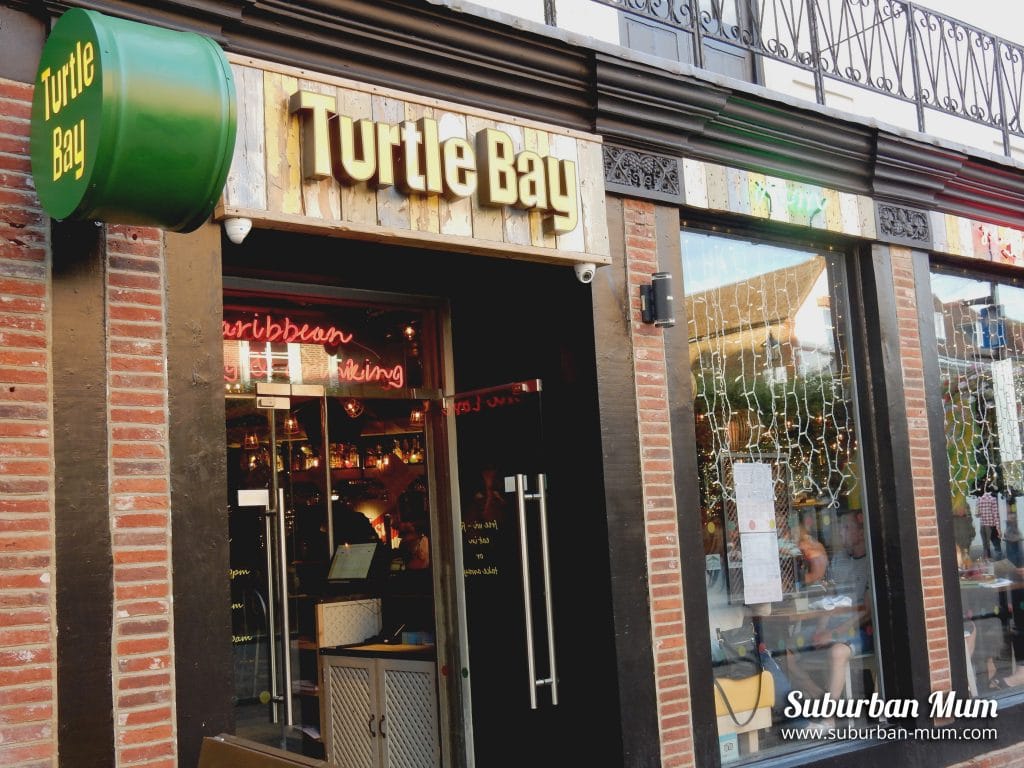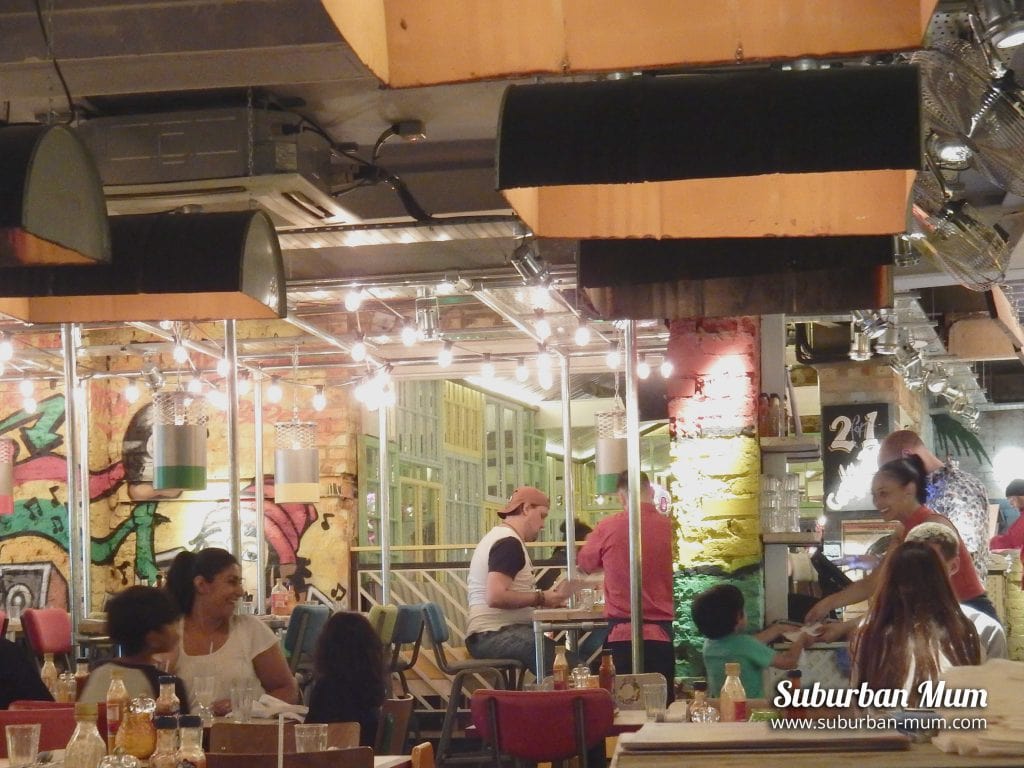 We were shown to our table and the boys were given a Caribbean Fun Book with some crayons whilst we were handed some menus.
We ordered some drinks – the boys had apple juice, I went for a Watermelon Crush (it was so nice M decided to take it off me!) and Mr H had some Ginger Beer which was freshly made and came in a jug.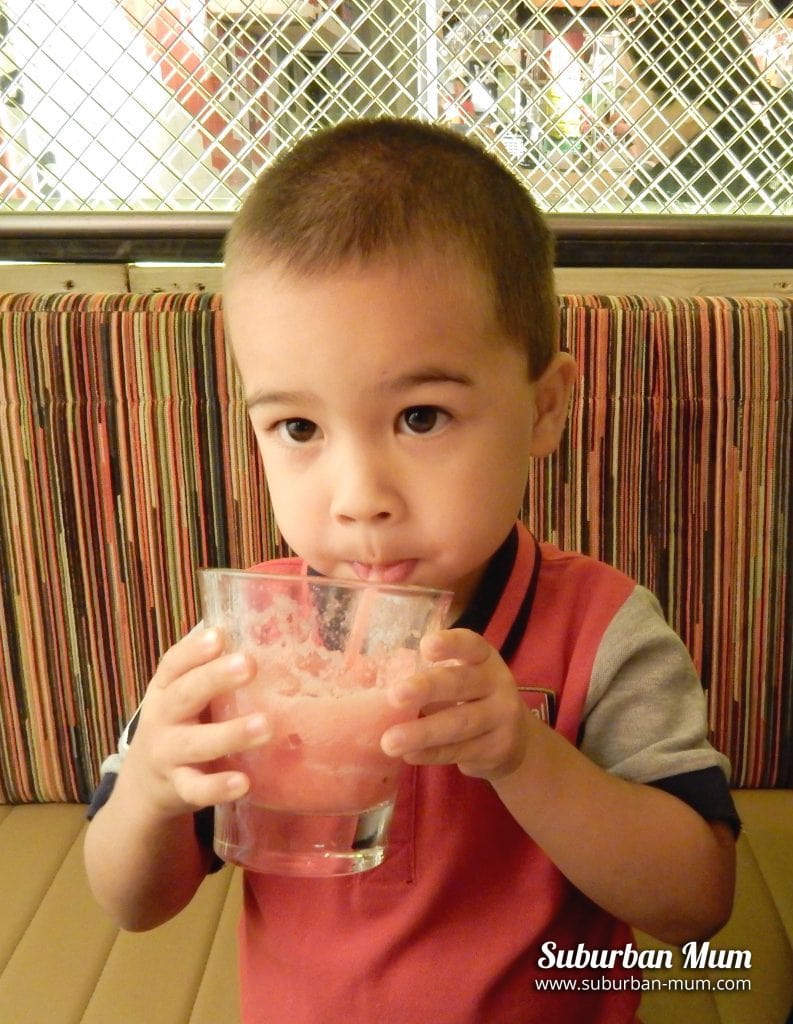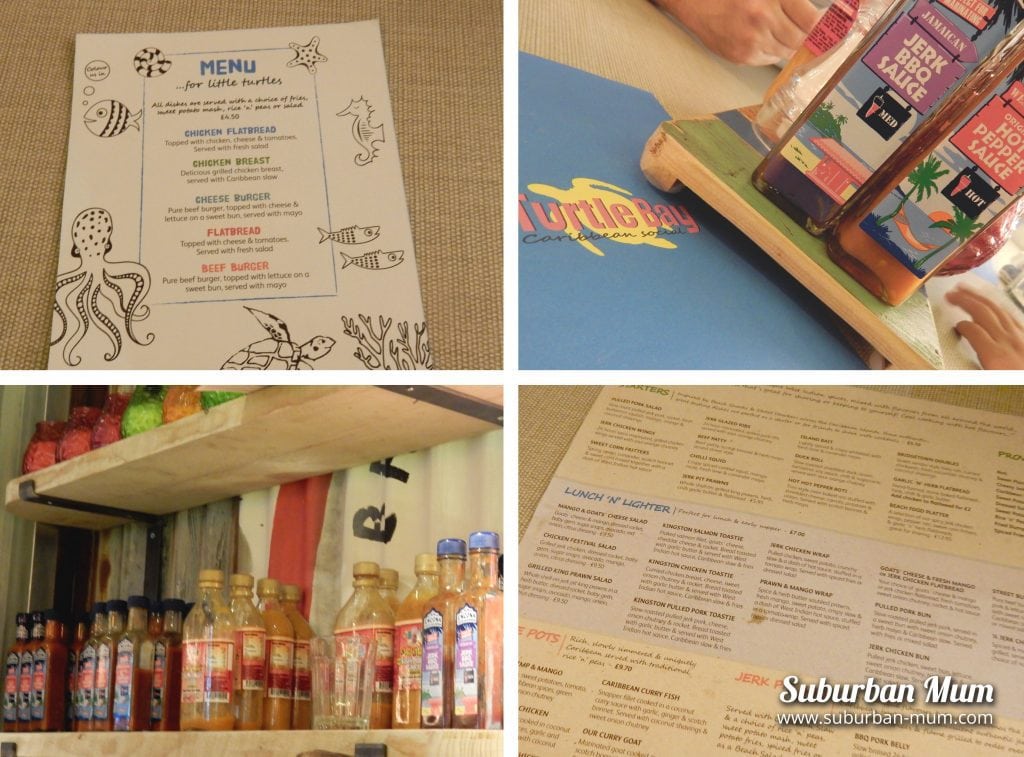 Starters
For starters, we ordered Island Bait (Lightly spiced & crispy whitebait with fresh lime and coriander mayo) Mr H had the Hot pepper Roti (Oven baked roti stuffed with shredded cheese, carrots potatoes and onion served with scotch bonnet & herb mayo) and I had the Chilli Squid.
The boys loved the whitebait and they didn't last very long – they were very flavoursome, as were the chilli squid. However, same couldn't be said for Mr H's Hot Pepper Roti. He was really looking forward to having something hot and spicy with the promise of a scotch bonnet and herb mayo but unfortunately as well lack of presentation it also tasted rather bland and was not hot or spicy at all.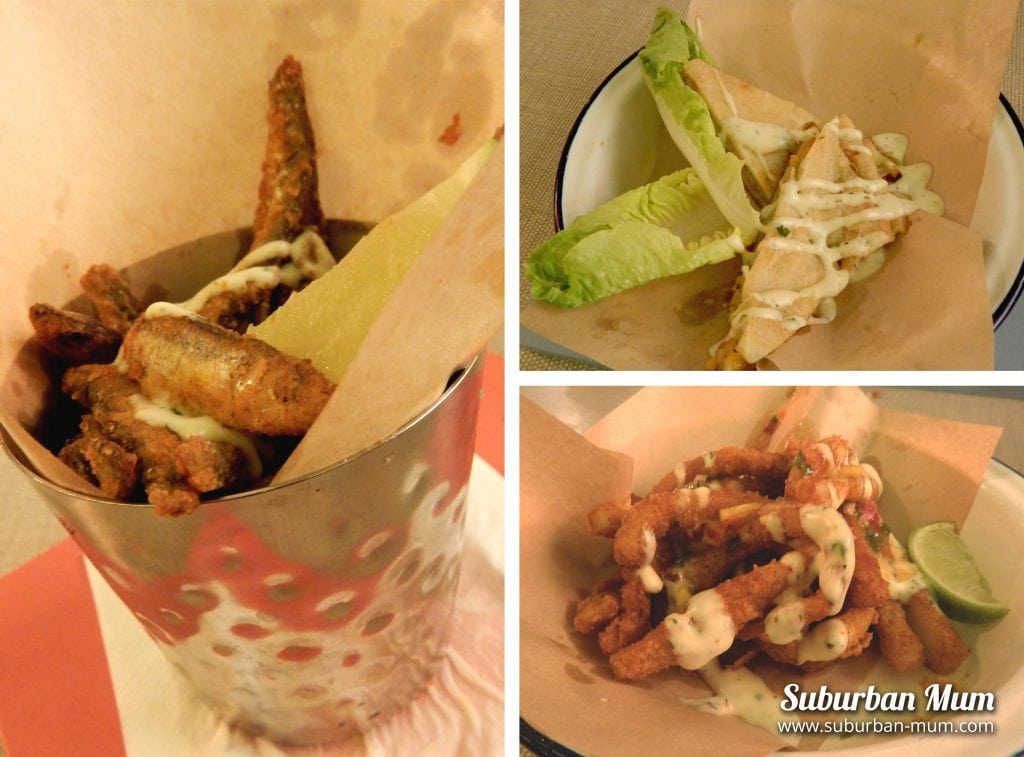 Children's Menu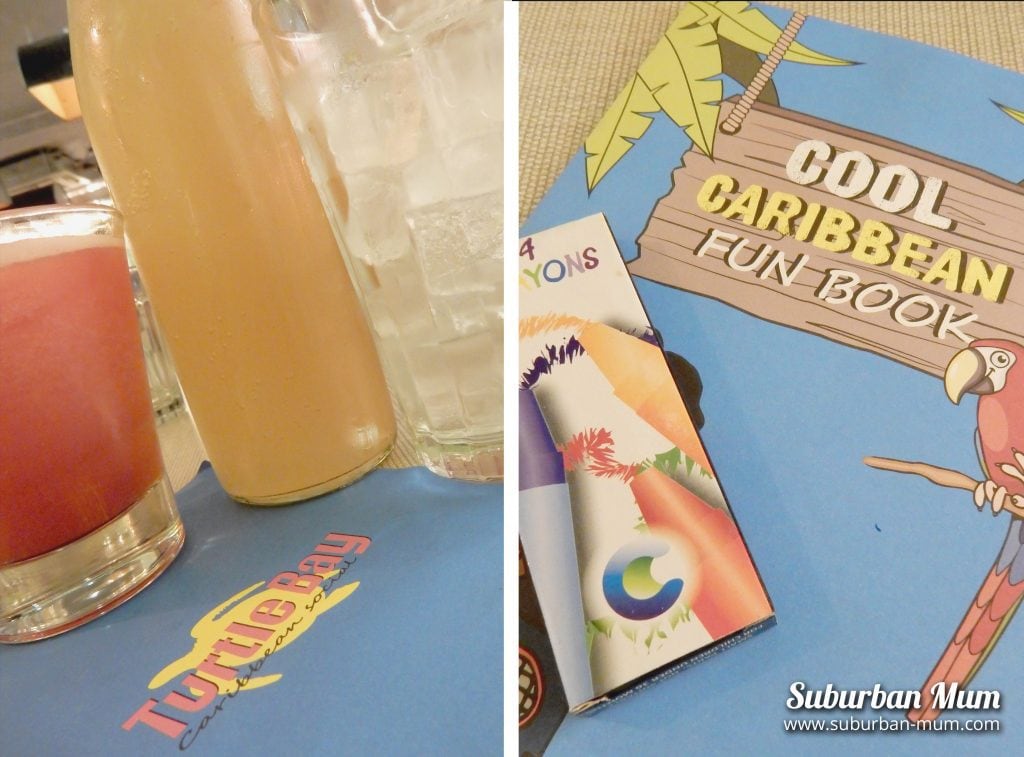 I loved the fact the children's menu was separate from the Fun Book. All too often they are on the back of the activity books and we end up having a fight over trying to see what's on the menu whilst they are fighting to colour in!
After having looked at the menu, though, I was a little disappointed to see that there was not much in the way of "Caribbean" style food on offer for little ones. I completely get why burgers were on the menu for children who aren't into trying new things but our boys (E especially) are quite adventurous with their food and are no strangers to having food with a little bit of spice.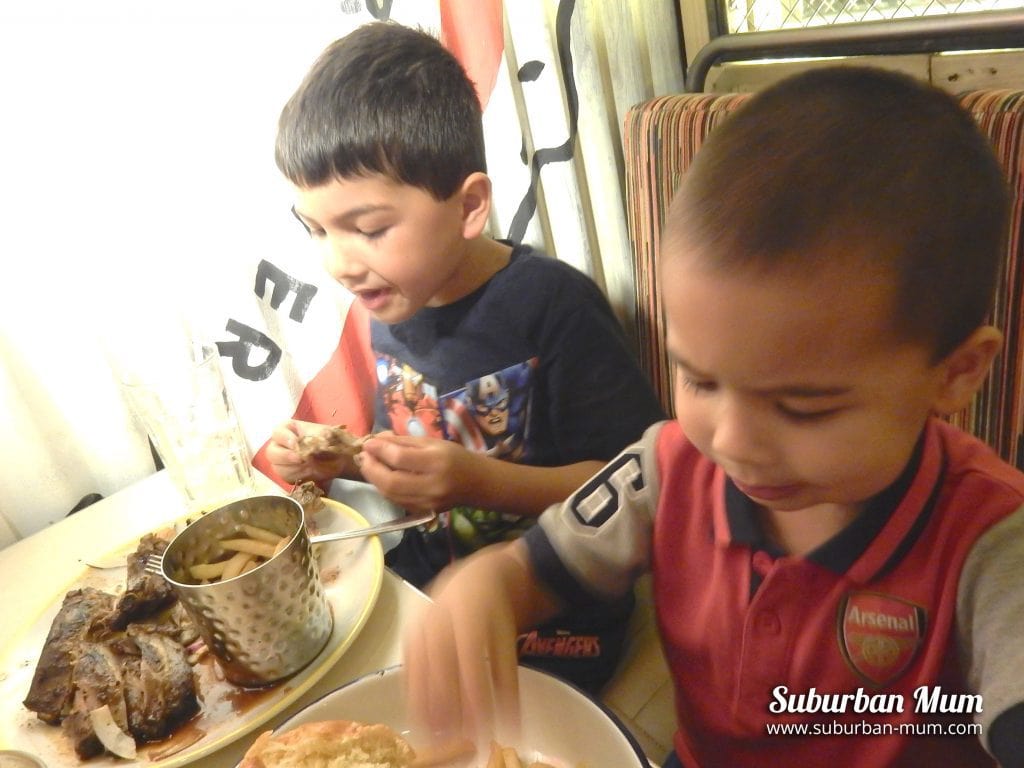 We ended up choosing the burger from the children's menu for M, and for E we ordered off the main menu as he wanted to try the jerk ribs. We asked the waiter if they were able to make it a little milder as it was for a child to which he agreed they could. I also enquired to see if they could make it a kids portion but apparently they weren't able to do that so we had to order the full adult meal instead.
I think this is probably where a lot of restaurants miss a trick with children. It would be great to be able to order any of the adult meals as a kids portion for those who don't fancy what is on the children's menu.
The Burger and Chips for M was a good portion and as you would expect of from most restaurants. E's adult portion of the Jerk Ribs came with a jerk glaze and sour orange chutney with coleslaw and chips and he gave it a really good go but even though we asked for spice level to be adjusted, the ribs were too spicy for him. I have to say it was a little disappointing that this happened –  even after we had especially requested it to be mild.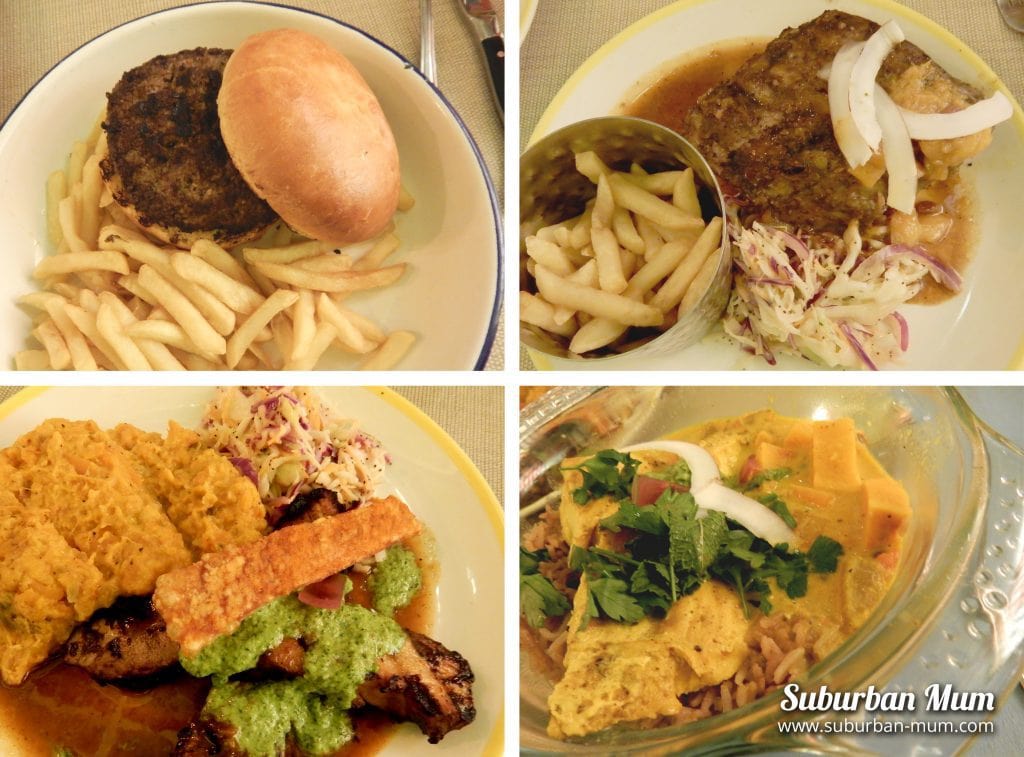 Main menu
For our mains, I had the BBQ Pork Belly (Slow braised jerk pork belly, crispy crackling and sweet onion chutney) and Mr H had the Caribbean Curry Fish (Snapper filled in coconut curry sauce with garlic, ginger & scotch bonnet) I did have to send mine back the first time though as the cut of pork I was given was full of fat and not much meat. After that was rectified though my meal was nice and very filling.
Mr H's Caribbean Curry Fish came in a pot and it had good flavour. His only complaints were that the curry was luke warm and that he could have done with a slightly bigger portion.
Desserts
For our dessert Mr H and I shared the Spiced Chocolate Pot and the boys had Chocolate Brownie. Not overly Caribbean but it was delicious all the same.
Overall, we loved the atmosphere of Turtle Bay and the fact that there is a huge choice of food on offer. We did feel that the presentation and the taste of some of the food fell a little short of our expectations. Maybe we were expecting too much or perhaps we made the wrong choices food wise? I'm not sure.
The service overall could also be improved. Our waiter couldn't advise us on much and got our drinks order wrong a couple of times. Service was also a little slow. Having said that though, it was an early Saturday night and the place was starting to get busy with people getting ready for their evening out.
Would I visit Turtle Bay again? I think I would, but perhaps as a young family, we would be better suited to dining at lunchtime instead. Or, perhaps we could ditch the kids and dine out as a couple and be able to try out the rum and cocktails of an evening instead?
You can find Turtle Bay, Staines at:
24-26 High Street
Staines
TW18 4EE