Scalextric has continued to appeal to all ages for over 60 years. Racing cars around different racetracks is something I remember well from my childhood and so I was excited to be able to introduce this to the boys.
We were recently sent the Scalextric Endurance Set (RRP £64.99) along with Track Extension Pack 1 (RRP £29.99) and the Ultimate Track Extension Pack (RRP £55.99) to review and I was keen to find out if Scalextric could still appeal as much to kids now as much as it did when Mr H and I were kids.
The boys couldn't contain their excitement when they saw what they would be reviewing. I've never seen them tidy their room to make way for the track so quickly!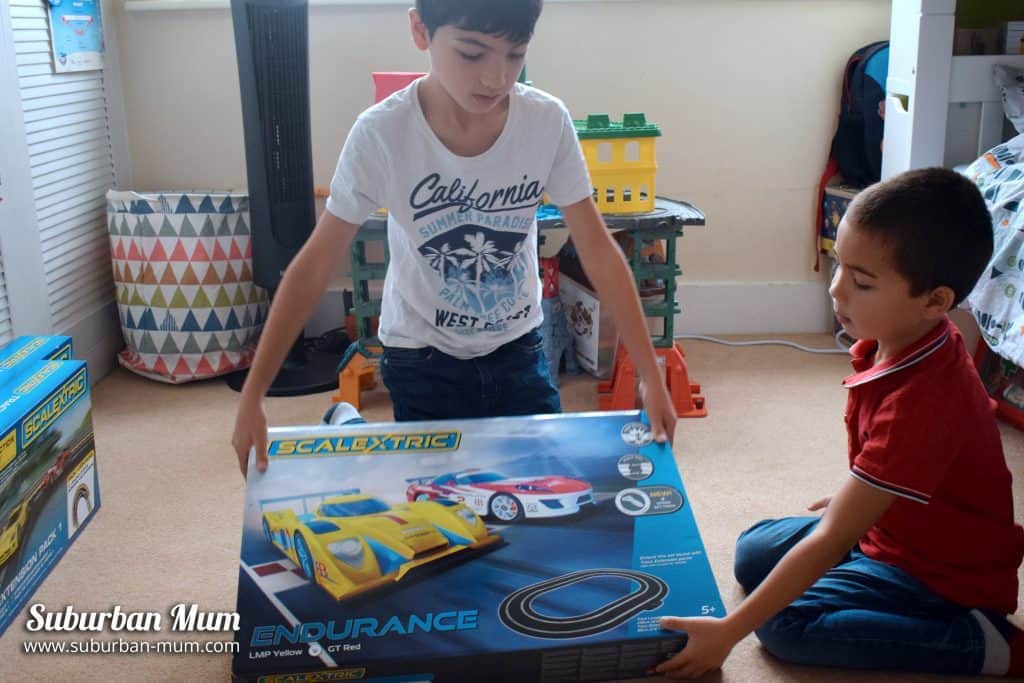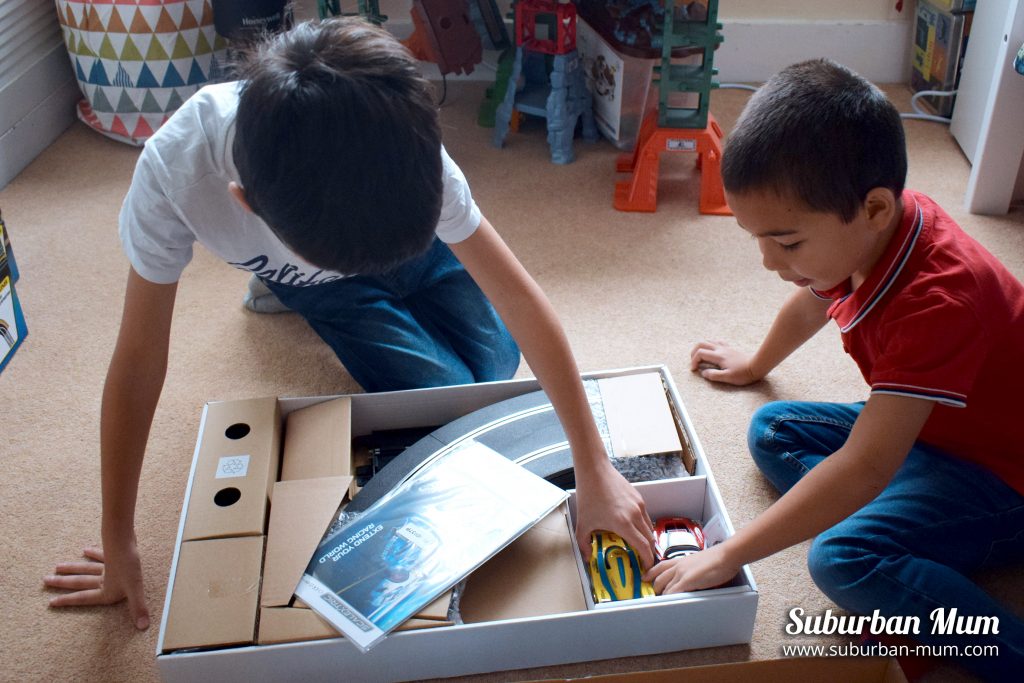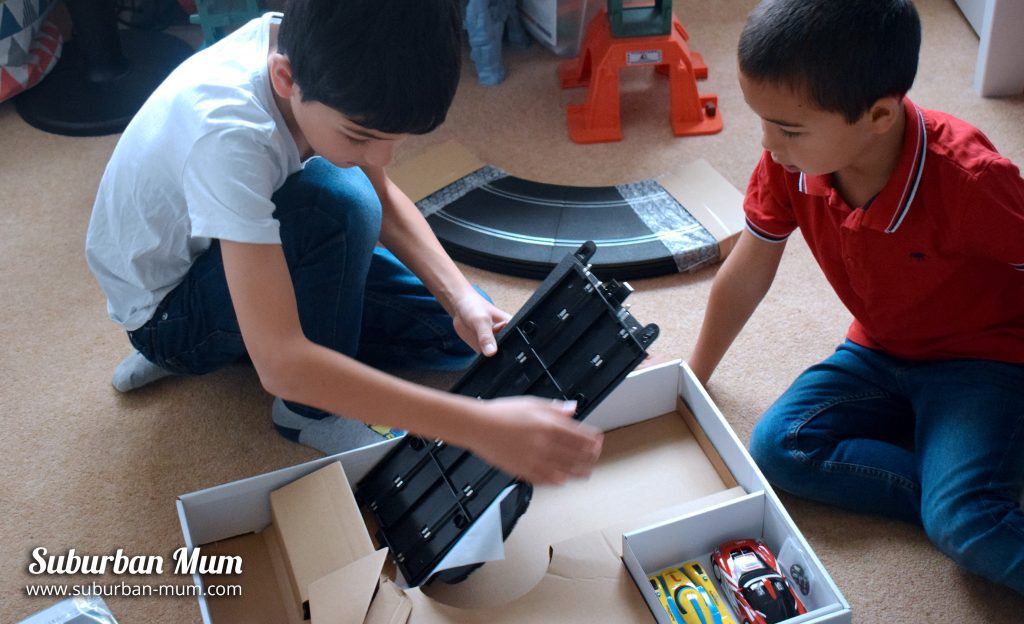 All Scalextric sets are suitable for children aged 5+. The Endurance set comes with a basic circular flat track that is 22cm long. It also has a transformer, so no batteries are needed – you just plug it in and off you go. Two race cars are supplied as well as two-speed limiter controllers where the harder you squeeze the control the faster your car goes. The Scalextric Set Extension Pack 1 comes with two racing curves with borders and barriers and the Scalextric Ultimate Extension Pack comes with 1 x Leap (Ramp up and down), 2 x Standard Straight Track, 2 x Hairpin Curves, 2 x Quarter Straight Track, 4 x Side Swipes, Borders and Barriers.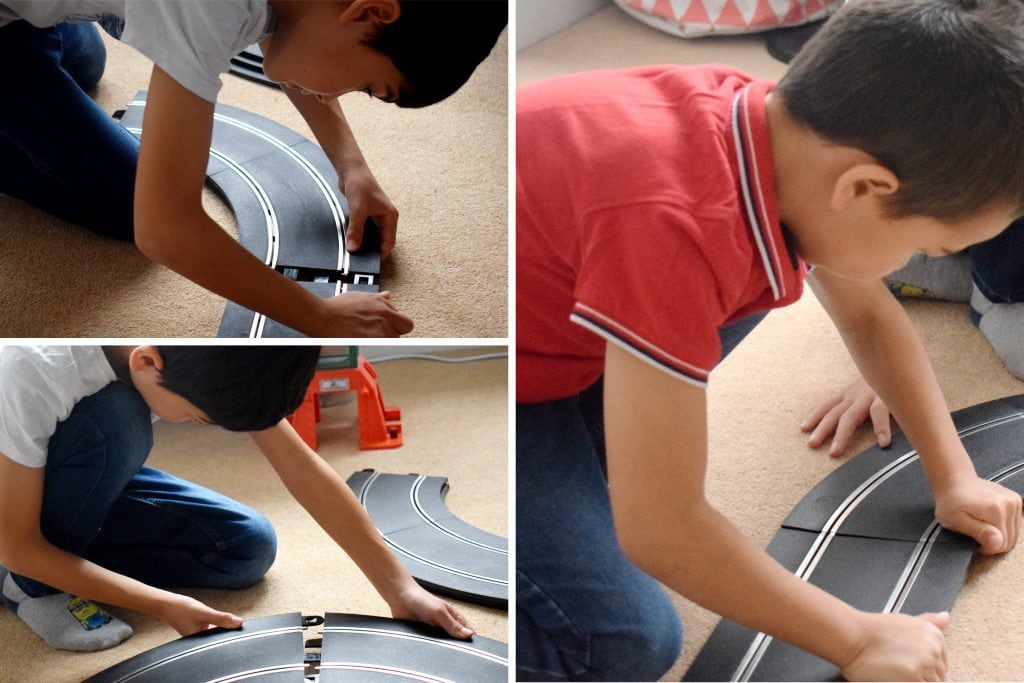 Setting the track up was quick and easy and we had it all together in 15 minutes. We found it easy to put together and the track itself seemed sturdier than I remembered too. The boys couldn't wait to race against each other – they were very competitive as they raced around the track and even managed to knock each other off the track at times too.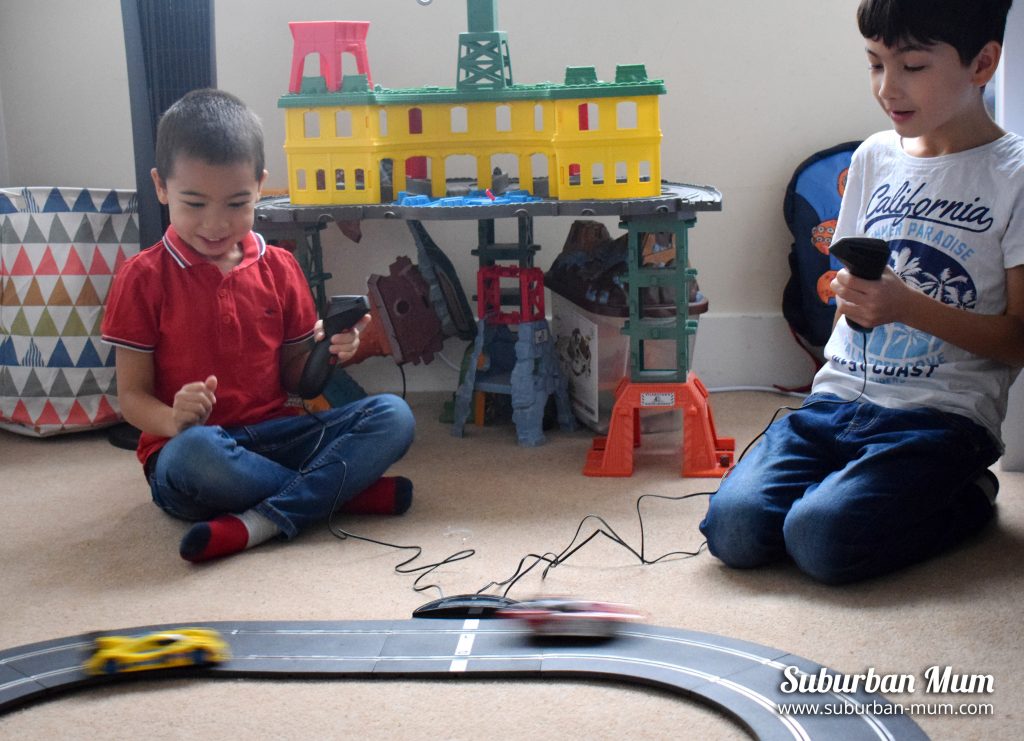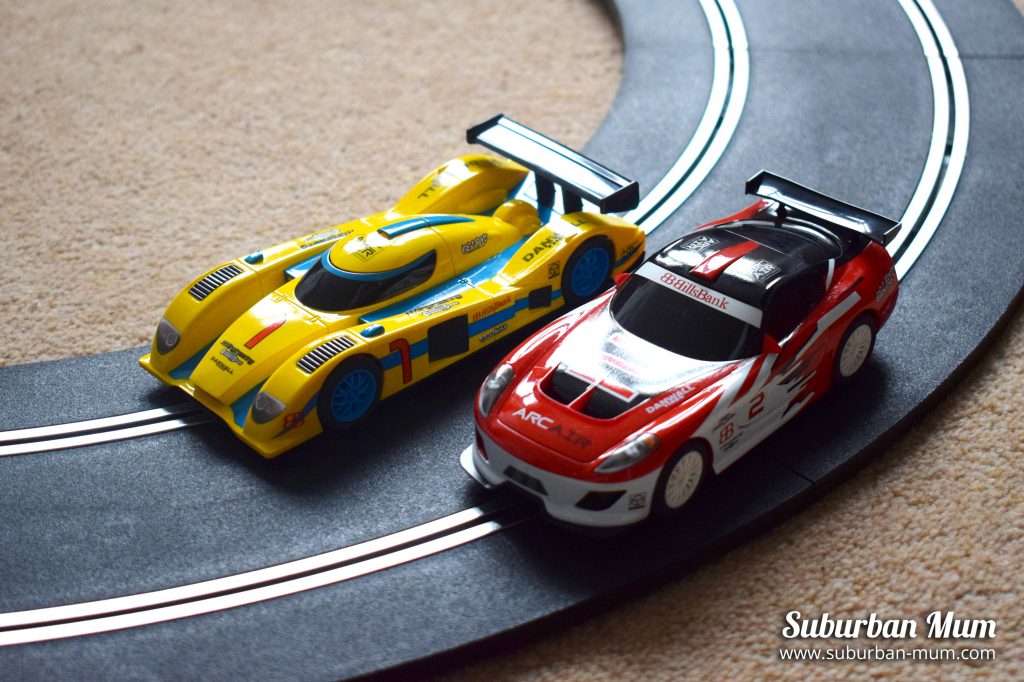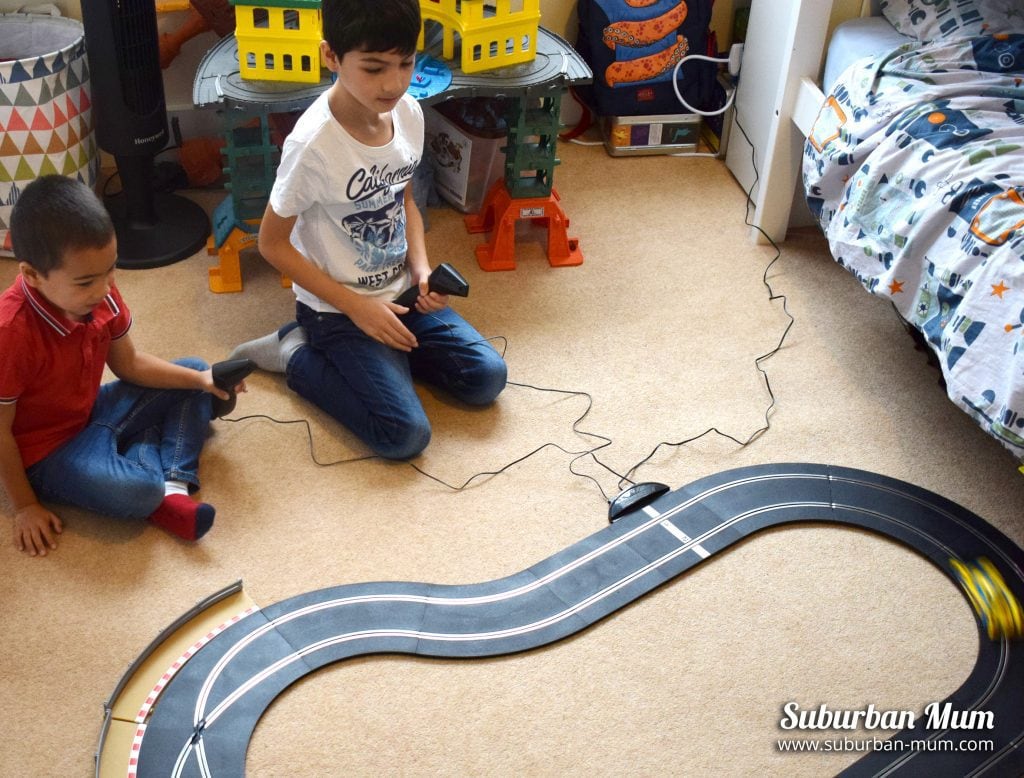 We made good use of the borders and barriers in Extension Pack 1 – it meant we could go faster around the bends and the ramp from the Ultimate Extension Pack was a great feature point. It wasn't long before Mr H and I wanted in on the action too.
One of the things that appeal to me about Scalextric is that it's a great way to get kids away from their screens and is a toy that the whole family can enjoy together. It would make a great gift for Christmas. I can see families pitting their skills against each other over the festive period and beyond. After all, it is a great toy to play at any time of the year.
When it came time to put the track away the boys found it a little tricky to disconnect the pieces but I am sure that with practice they'll be able to do it on their own without any problems. I like the fact it can be taken apart and put away and doesn't need to stay set up unless you want it to.
I think Scalextric is not only great for the boys to be able to play together but the whole family too. I know we will be playing together a lot more now and will be looking to buy more accessories to extend our play further.
*We were sent the Scalextric Endurance Set and the Track Extension packs for the purpose of this review
Pin it for later: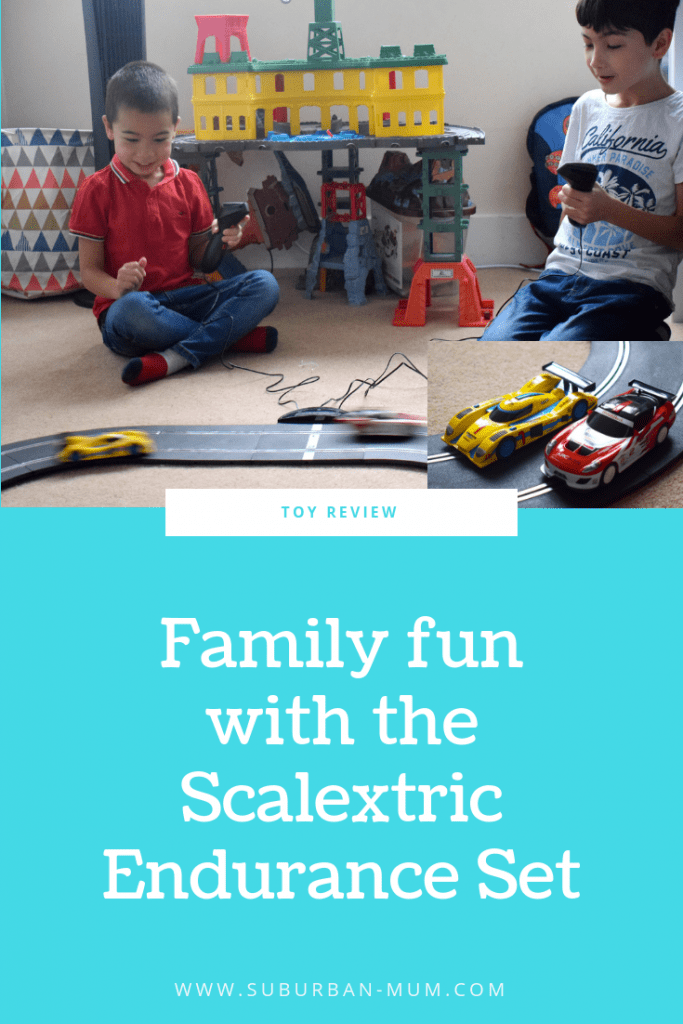 You might also like: