The boys love learning about the world around them. E especially is very inquisitive and often asks lots of questions about different countries and their culture. Over half-term, we were asked to review the SmartGlobe Explorer AR by Oregon Scientific. Read on to see what we thought of it.
SmartGlobe Explorer AR by Oregon Scientific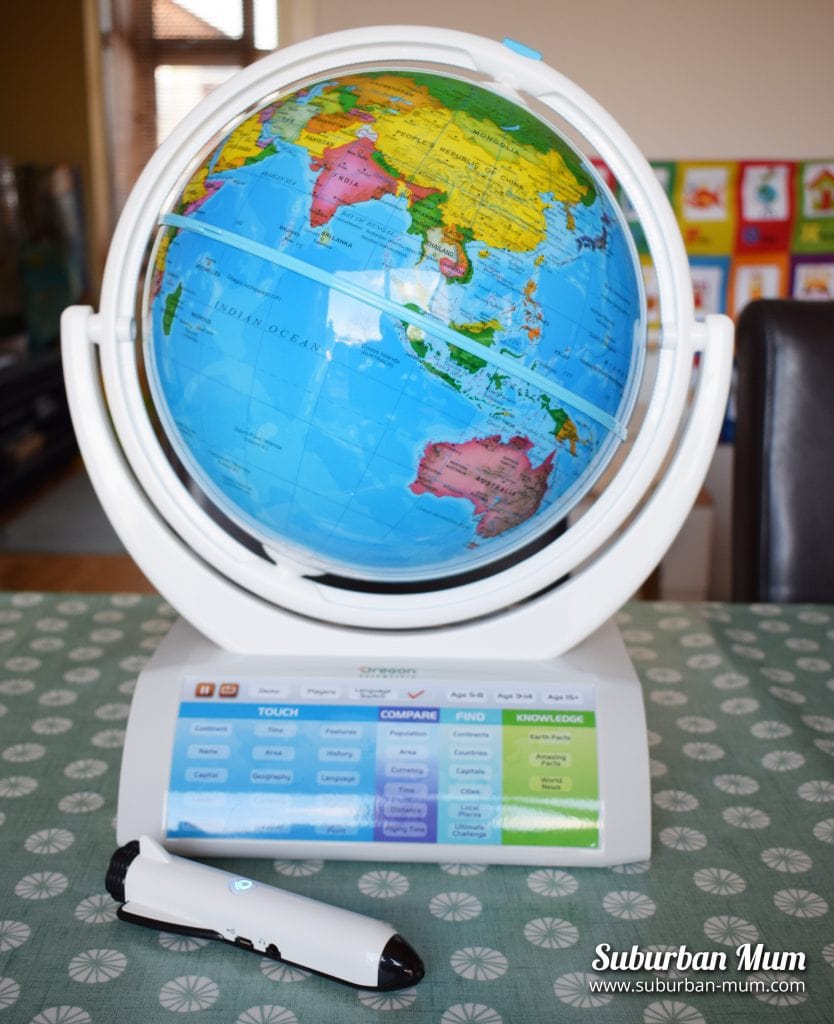 First off, this isn't a standard globe. It's interactive and allows you to explore the world where you can learn a wealth of information such as continents, capital cities, population and culture.
I was surprised to learn that the SmartGlobe doesn't require the use of batteries which is a big win for me. The SmartGlobe Explorer AR comes with a Wireless Talking pen in the shape of a rocket which you use to explore with. This is rechargeable via USB (a cable is supplied in the box) and takes around 2 hours to fully charge. Thankfully, you can control the sound via the buttons on the side of the pen as we found it was quite loud, to begin with. There's also a port for you to plug headphones should you wish which is another great feature. When the SmartGlobe is not in use, the Smart Pen can be stored neatly at the back of the globe so you don't lose it!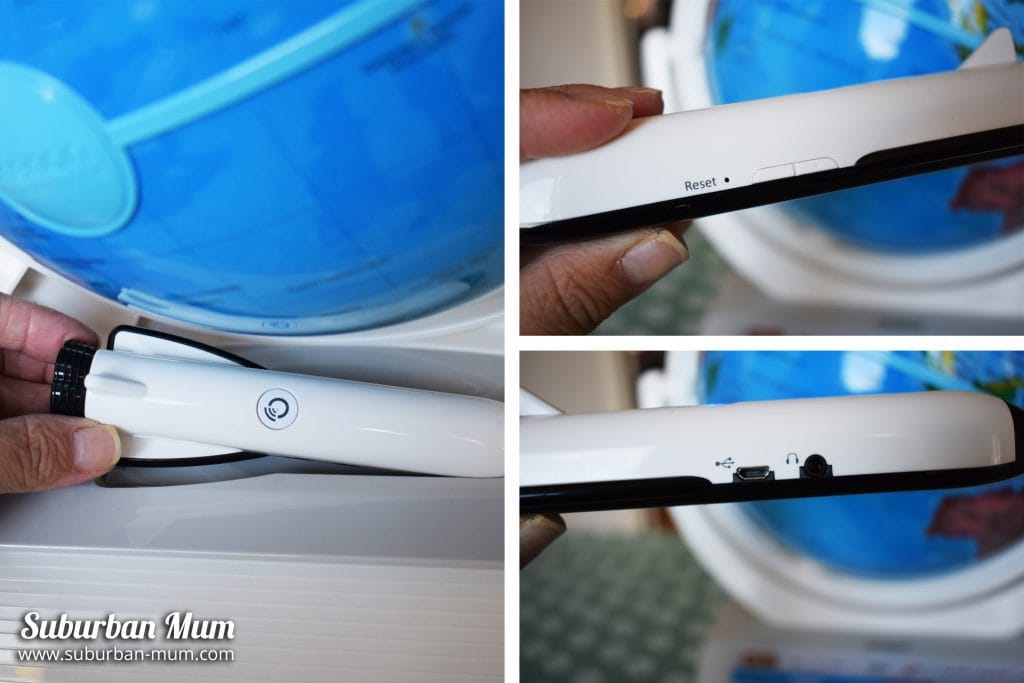 To use the SmartGlobe you simply turn on the pen and point it at the activity panel on the base of the globe. There are over 42 fun and educational activities and games you can access and there are three age settings available – age 5 to 8, 9 to 14 and 15+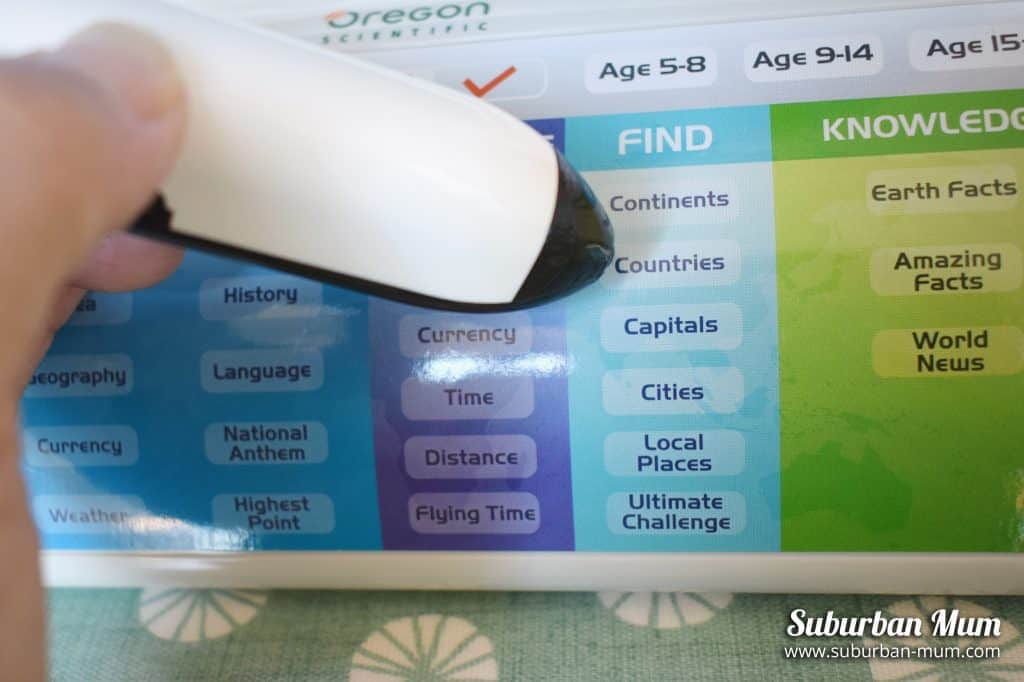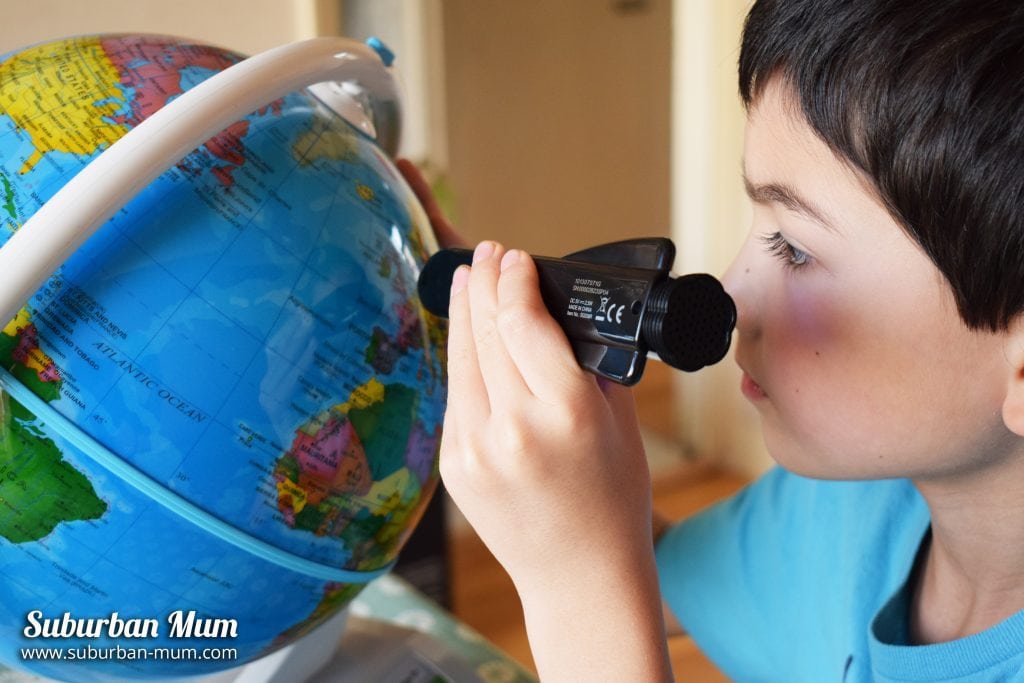 I really like the fact you can choose an age setting most suited for your child. It means that the globe can grow alongside my boys and can help educate them over a span of 10+ years which is just amazing!
Although I don't need to just yet, when the boys are older, I can easily swap between the age settings to make sure the SmartGlobe is at the right level for them. I also don't need to worry about the content being outdated either because the globe is easily updateable simply by connecting the Smart Pen via USB cable to a computer. The globe comes with a year's worth of updates which you can renew once the year is up.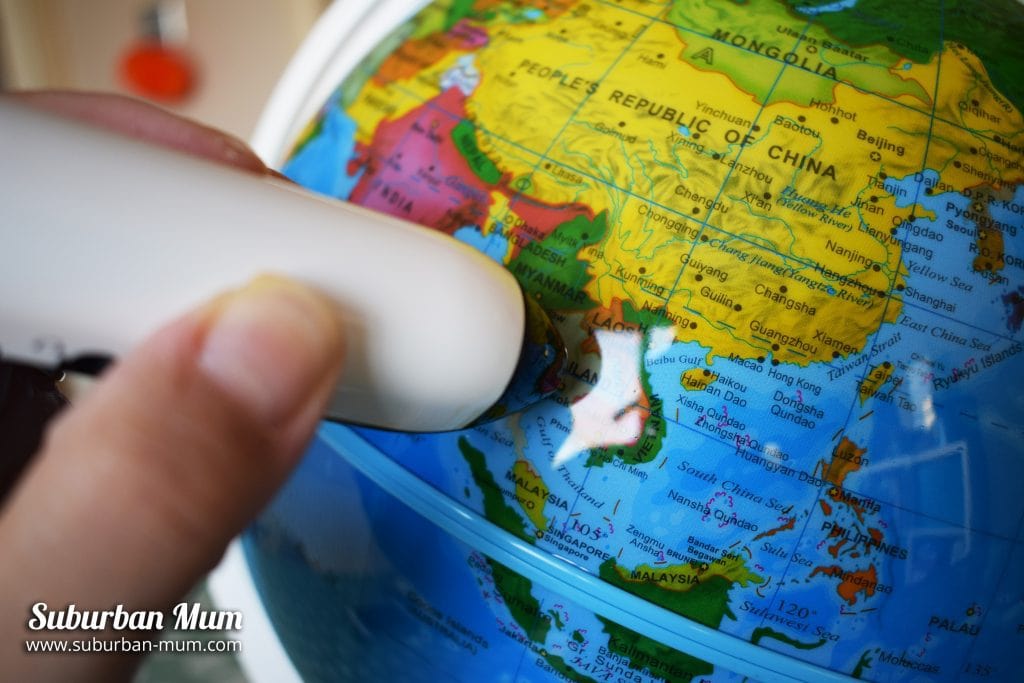 When you've finished exploring the globe, you can also take it out of its stand and open it up to reveal a solar system and the earth's core for further learning. There's also a drawer at the base which you can pull out that shows a map of the UK and Ireland. You can use this to rest the open globe on by flipping it over.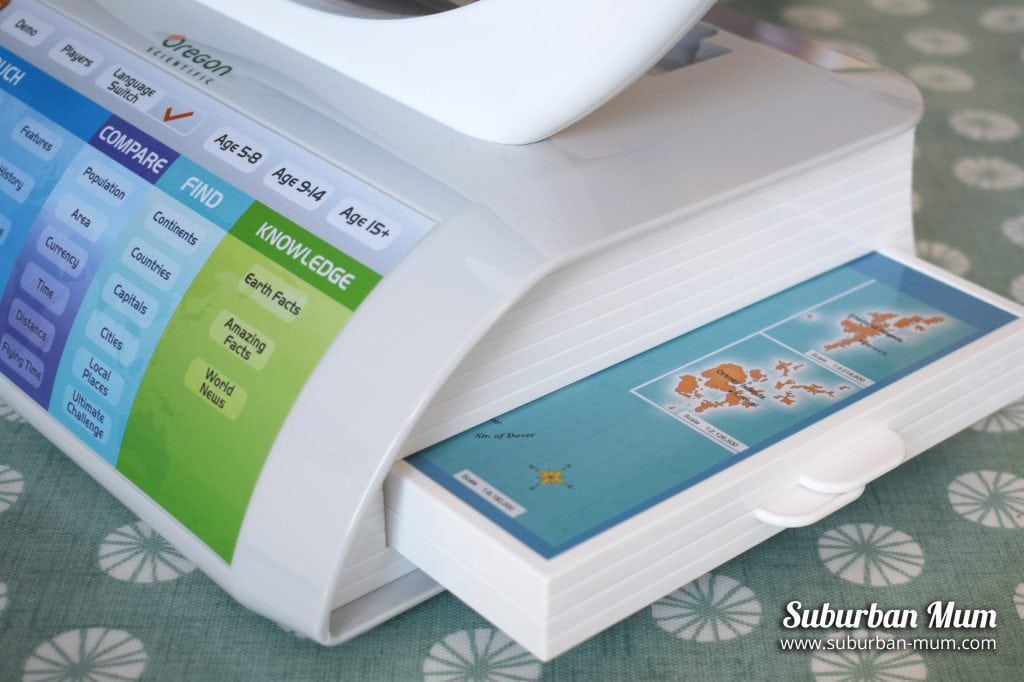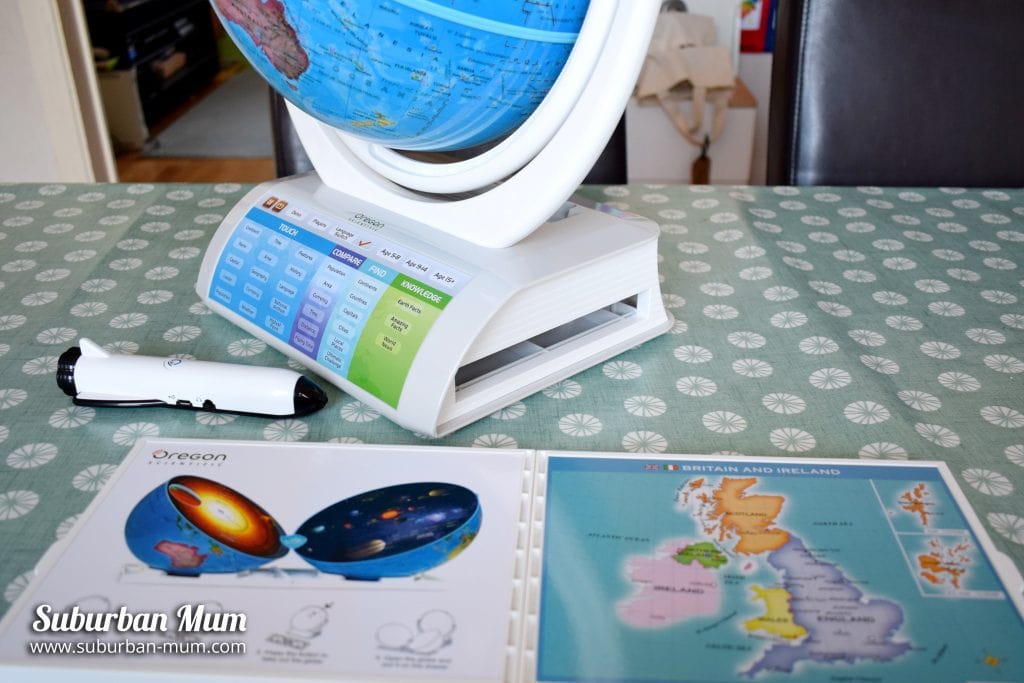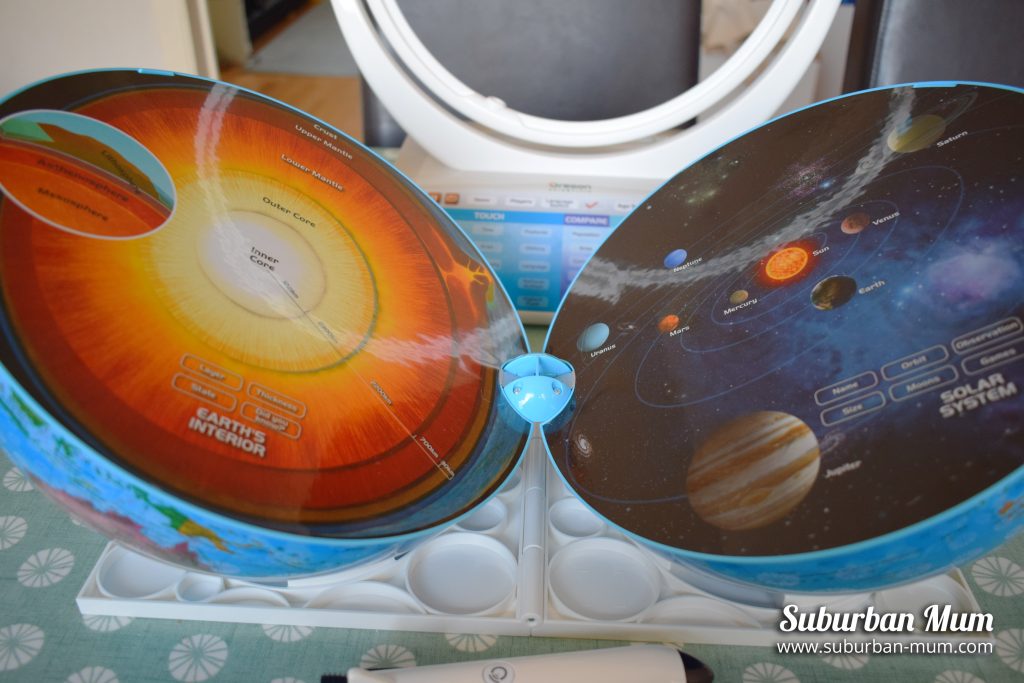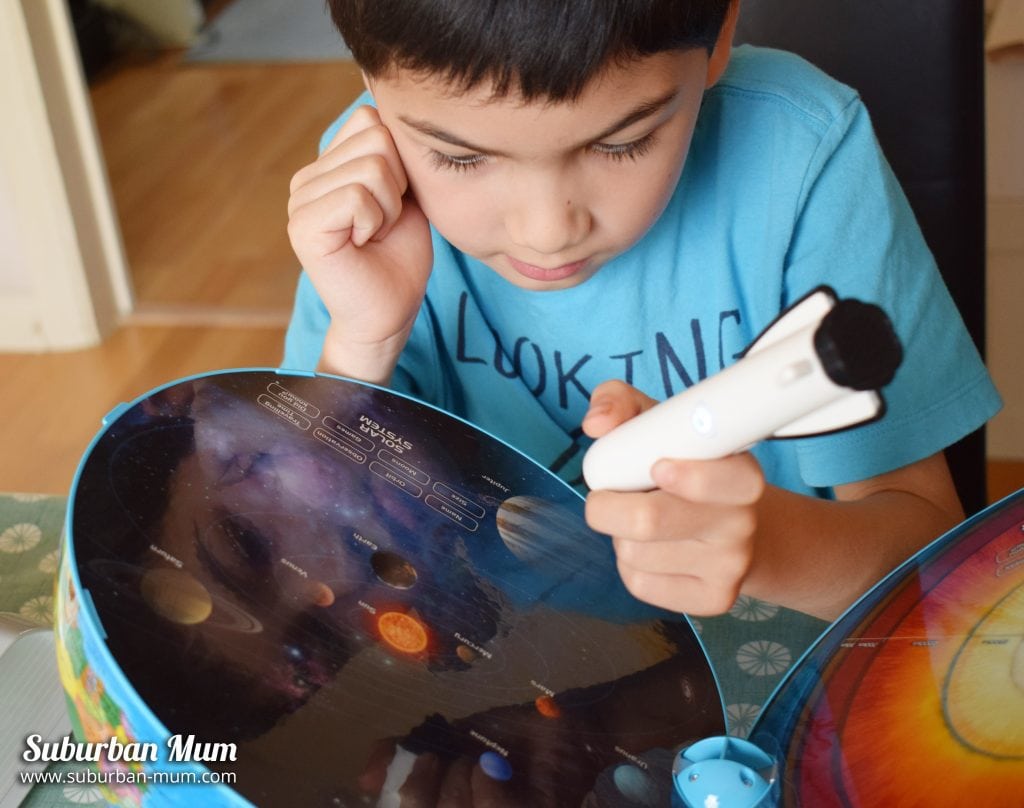 SmartGlobe Explorer App
On top of all the features I've mentioned above – there's more!  You can download the SmartGlobe Explorer app which is available for both iOS and Android and see the globe in a 3D augmented reality experience! By holding your tablet or phone over a country you can watch it come to life!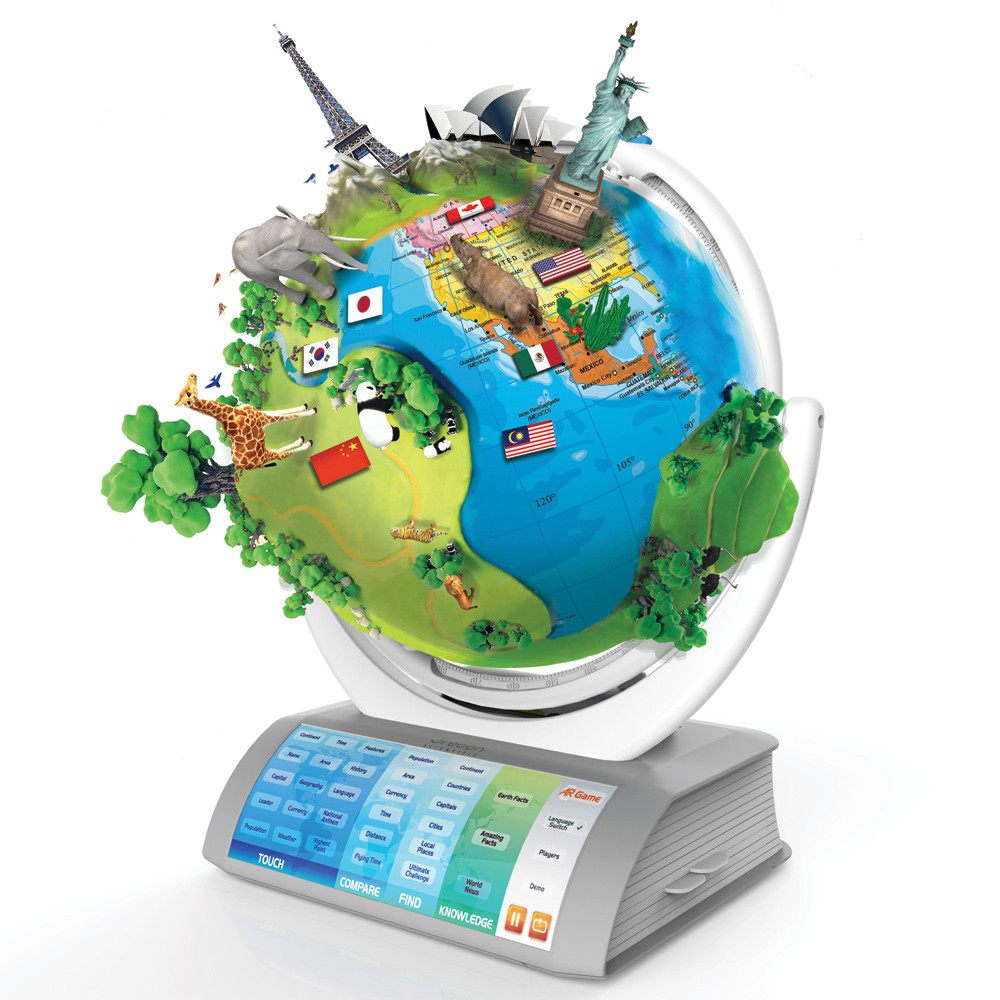 Our Verdict
We love this SmartGlobe! It's jam-packed full of features that are fun and educational. The globe is sturdy and really well-made.
So far, E has had great fun finding countries and cities in a race against the clock and has already expanded his Geography knowledge in doing so. The boys have also enjoyed finding all the country's we've been to so far and learnt things such as the countries history, population and currency. I can already see it being a great educational learning tool for the boys that will stand the test of time and will still be used in years to come.
The SmartGlobe Explorer AR has an RRP of £129.99 although is a little pricey, given the longevity of use it will have I think it is worth it. I would highly recommend this to all families as I think it would make a brilliant addition to any home and can be used by children and adults alike (it might help improve my Geography too!) It would also make a fantastic gift for Christmas or Birthdays.
If the price is a little out of your budget, Oregon Scientific also has a range of other globes available that start from just £29.99
*We received the SmartGlobe Explorer AR for the purpose of this review. This post contains Amazon Affiliate links.
Pin it for later: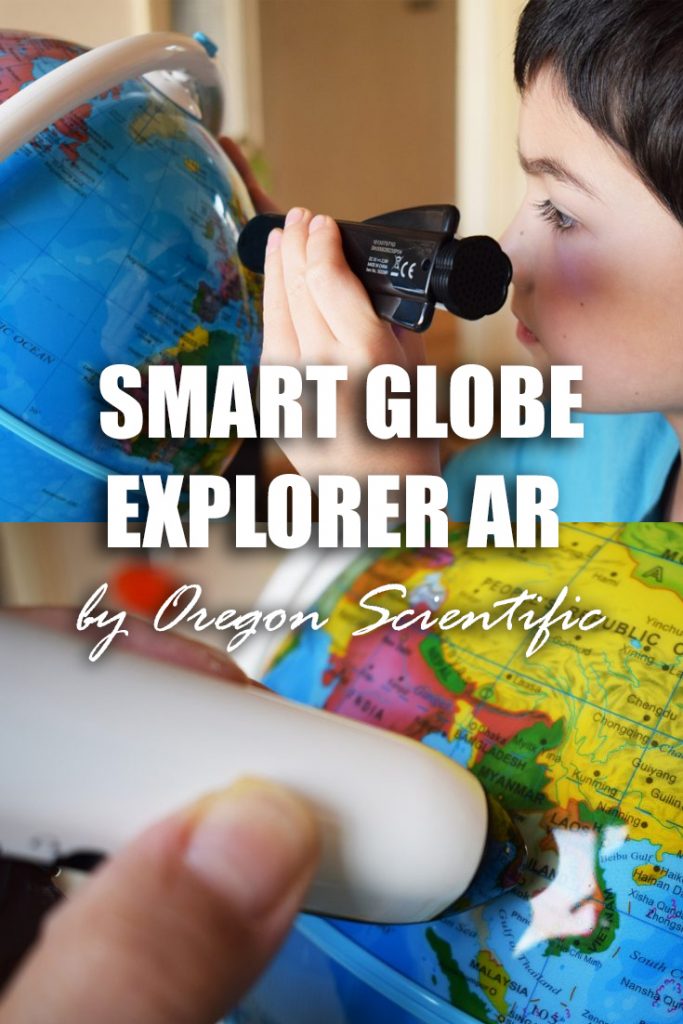 You might also like: