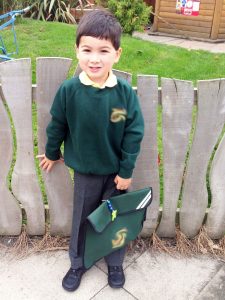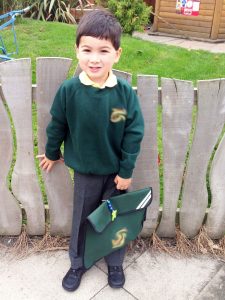 It was finally E's big day this morning – his first day at school! I have never felt so nervous or so proud of him. I felt my self welling up even at the thought of it (when did he grow up into a big boy in the blink of an eye?!) but luckily I had the distraction of walking in with my neighbour. He took everything in his stride and happily walked into his classroom.
I'm glad I made the decision to work from home rather than have the day off as I was kept occupied and not clock watching all day.  Still – pick up time couldn't come soon enough. I was desperate to find out how his first day went and whether he had made any new friends.
I fully expected not to find anything out about his day but Ethan came bounding out and told me about all the different types of dinosaurs they had in the classroom, what he had for lunch and what games they played.
I asked if he liked big school so far and was met with the response of "I love it!!" Let's see if he's still as enthusiastic about it tomorrow!