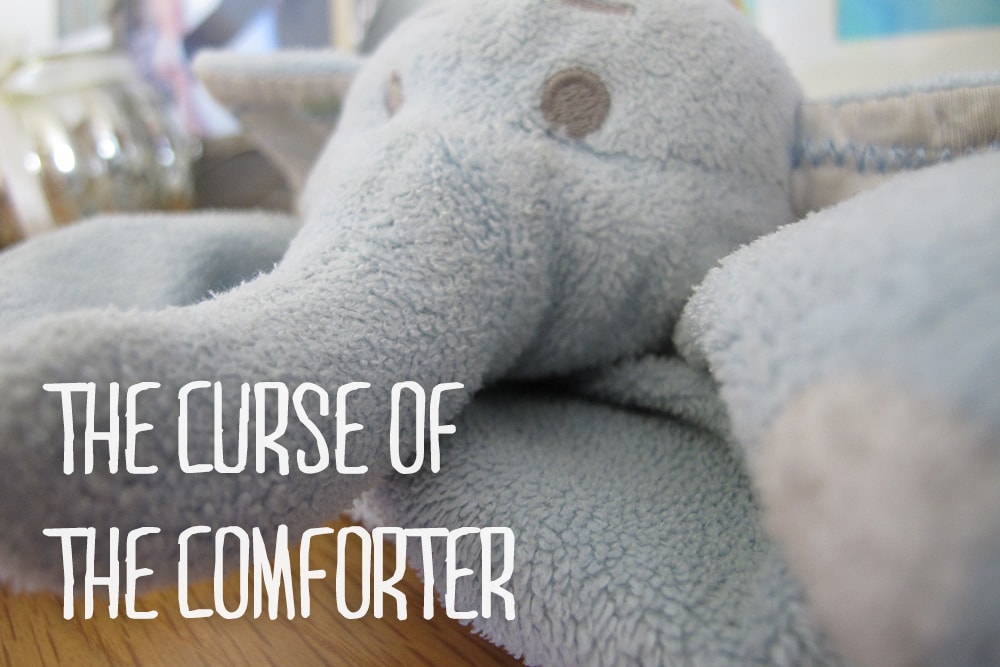 M has had a blue elephant comforter called Henry since he was a baby. Being baby number two I knew it was unwise to only have the one comforter so went ahead and purchased a duplicate so we could swap them over to wash. Except….. I didn't get around to doing this as early on as I liked so by the time I did get round to it… M had turned into full on MI5 agent and just knew the difference from feeling the comforters.
It didn't matter how hard I tried to get his "scent" onto the new comforter apparently it just wasn't the same. Granted the fleece on the new one was slightly different and the version I bought was a slightly updated one. So I even went to the extremes of sourcing what I thought was an exact replica of Henry on eBay and smugly thought to myself I'd had it sorted – only…. MI5 agent M had other ideas. He wasn't having a bar of it and refused them.
I gave up, no matter how hard I tried he just wouldn't accept the other "replicas" so I would have to sneak washing Henry after his nap and make sure it was dry and ready before bedtime. He is so attached to his comforter that I have always had to make sure it is packed safely in my bag when we go out – I know this is dangerous territory. The absolute fear of ever losing him whilst we are out and about crosses my mind ALL THE TIME but to not have Henry to calm him down when he is screaming the place down or won't settle seems to outweigh this every time.
Oh the number of times Henry has been dropped when we are out, and the panic and mad dash to retrace our steps ensues… Then last year we really really did lose him and I only realised at bedtime. I thought he was safe in my changing bag…I didn't know what to do…I called hubby and told him we had a code red situation on our hands. He said he would try and retrace my steps on his way home to see if he could find it.

That evening was horrible… M took forever to settle and I had to get him to fall asleep on me first before putting him down in his cot. I racked my brains to think of the last time he had Henry when we were out and remembered that I was in a beauty shop earlier that day having my eyebrows done. It was the last time I'd seen M with Henry.
Poor hubby had to take a train out of his way in the hope of finding the comforter, whereby by some utter miracle he could see Henry in the shop window. I don't think either of us have ever been so damned happy!  The shop was closed though so although we had to survive the night we were safe in the knowledge that we would get him back the next day.
Ever since, we have been very careful whenever M takes his comforter outdoors but his most recent episode is another thing entirely. You see… I "washed" Henry last week – like I do every few weeks when it starts to smell of spit (sooo gross) and look grubby, but the last couple of times I have done this? M has gone mental and has refused to believe the Henry I washed is the same. I tell him that I had to wash him because he was dirty. I even showed him all the other Henry "imposters" so he could see for himself which one was the "real" Henry. Yet I was still met with cries of "Nooooooo…. wash him! Wash him!!" (did I not already tell him that that is what happened?!) It got round to bedtime and the tears started again – he wouldn't go to sleep because it wasn't his usual spit smelling Henry… *sigh* He was STILL saying "wash him! wash him!" as if by washing him again would make things any bloody better?!
How did I get here? How did I start being a) ruled by a toddler and b) living in fear of a sodding comforter? How did I manage to let this happen?!
In the end… I had to distract and bribe him with something else in order to calm him down. So what did I do? I let him have Scout a bloody talking bear that he now cannot go to sleep without… what HAVE I done?!
Someone pass me the gin.