Mr H and I used to live in a block of flats opposite The Harts Boatyard in Kingston and it was somewhere we would visit regularly. I have fond memories of celebrating birthdays and special occasions there. The Harts Boatyard has recently been closed for refurbishment and we were invited to a special preview to see the new makeover. Unfortunately, due to work commitments, we were not able to attend so we were invited along to review on a Sunday afternoon instead.
The Harts Boatyard is situated between Surbiton and Kingston along the banks of the River Thames. If you're driving, there's a car park at the front of the pub/restaurant. (we had no problems finding a space when we visited) Otherwise, it's a short walk or cab journey from Surbiton station.
Alongside the new transformation, a new menu has also been launched featuring fresh flavours that have been inspired by modern world-food trends. We arrived probably at the height of their busy period on a Sunday afternoon. I think they may have been understaffed (not great when you have just re-opened) as it took a while for us to be greeted and shown to our seats.
The restaurant was bustling with couples, friends and families enjoying their Sunday lunch. We had opted for an early dinner and shared a few starters between us while we waited for our mains.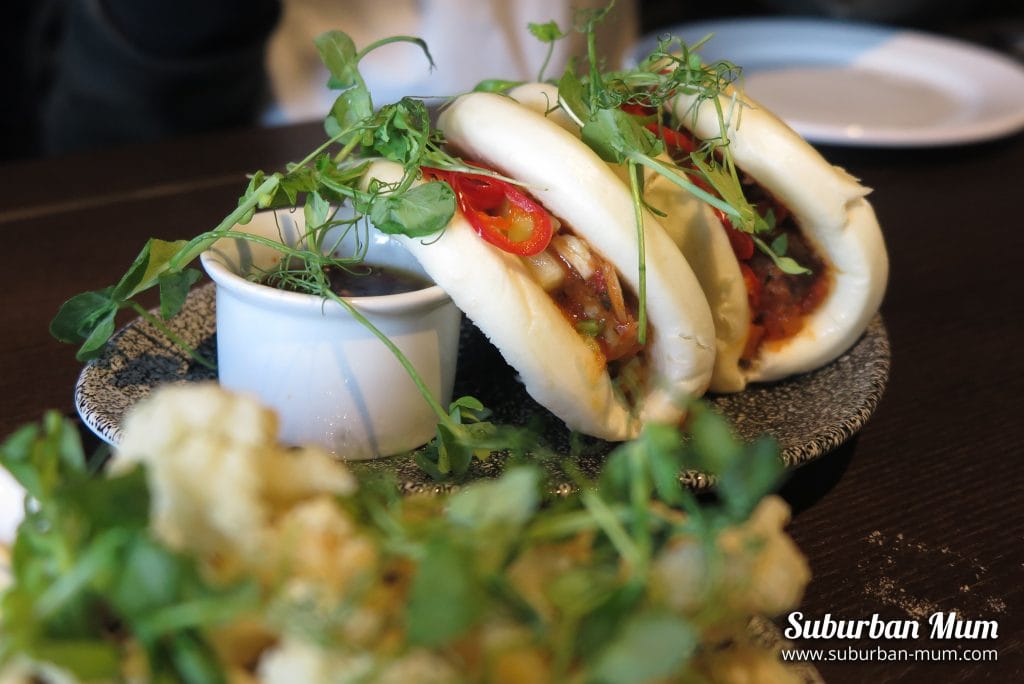 Between us, we shared the Tempura Squid, Seared Wild Atlantic Scallops with Lobster and Crab bonbons and the Pork Belly Bao Buns. They were wolfed up rather quickly and didn't last very long. I would definitely recommend the Scallops – they were delicious and E especially loved the pea and truffle oil velouté it came with.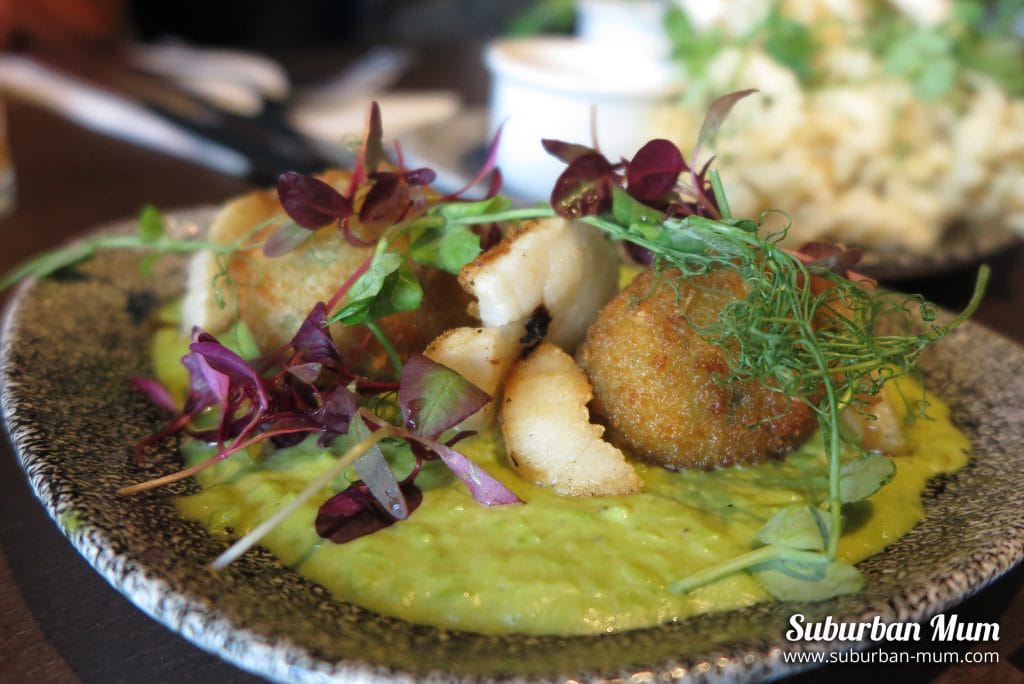 For our mains, the boys chose dishes from the Children's Menu. M went for the Cod Goujons that came with a side of chips and peas and E had the Sunday roast. E's roast looked amazing when it arrived and both of the Children's meals were a good portion – not too big or small.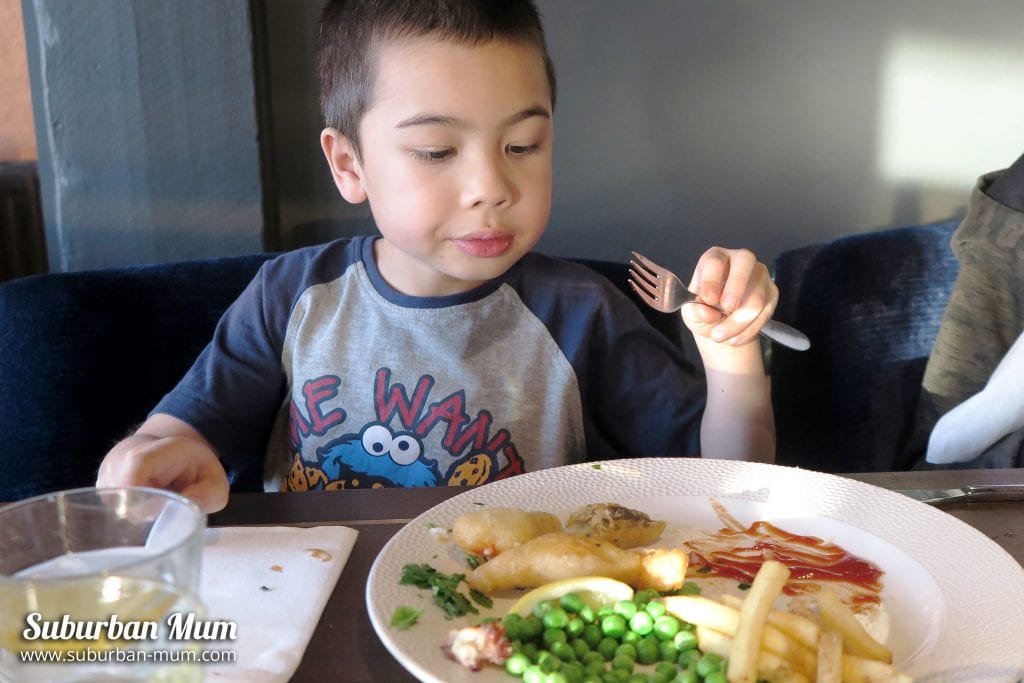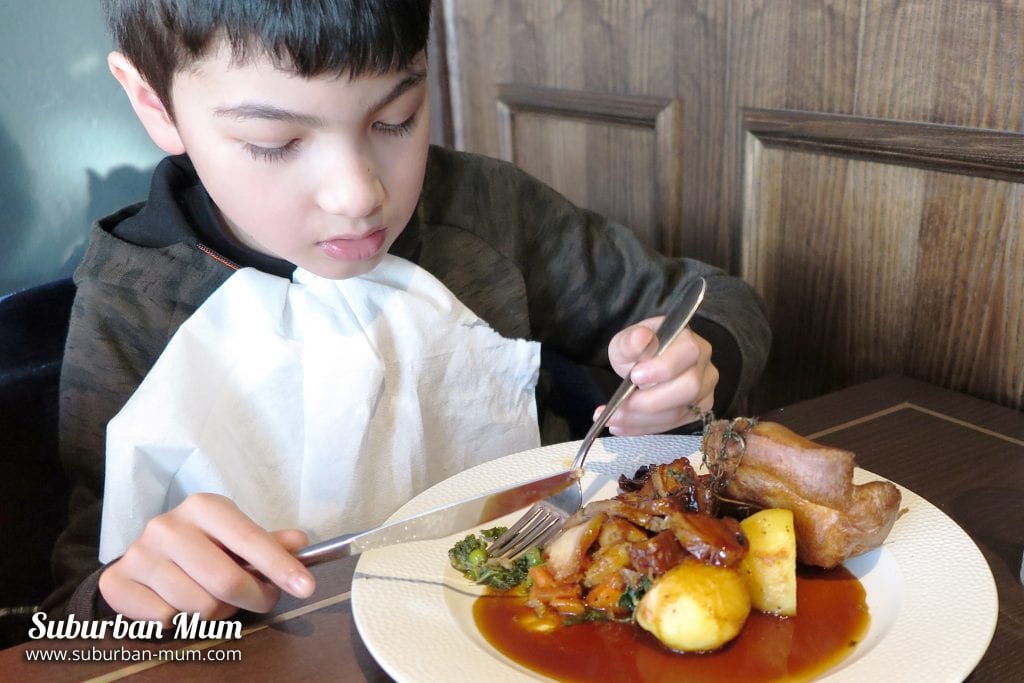 Mr H had the Ribeye steak that was served with chunky chips and I opted to have the Sea Bass Fillet & Charred Octopus that came with baby potatoes, samphire and baby spinach. I loved the combination of the sea bass and octopus, I think it worked really well and the samphire and spinach complemented the dish well.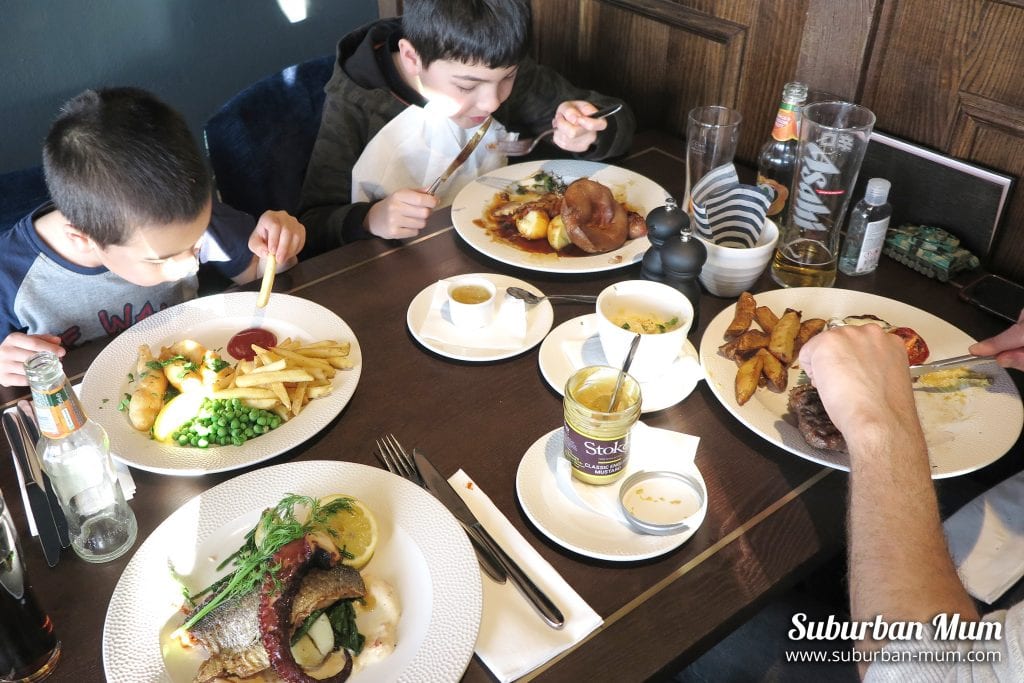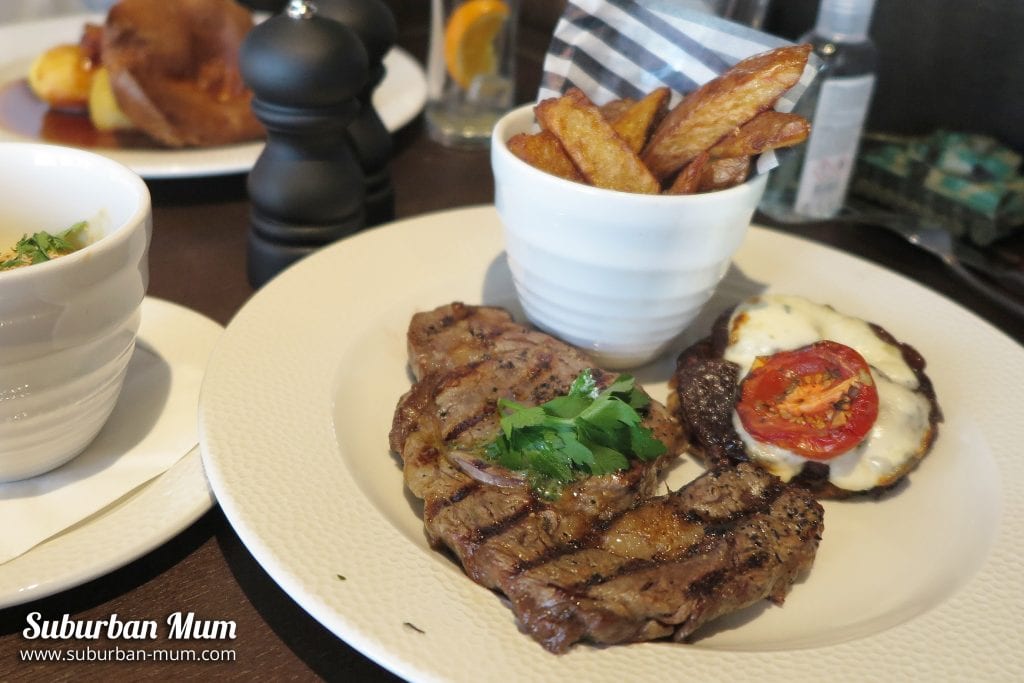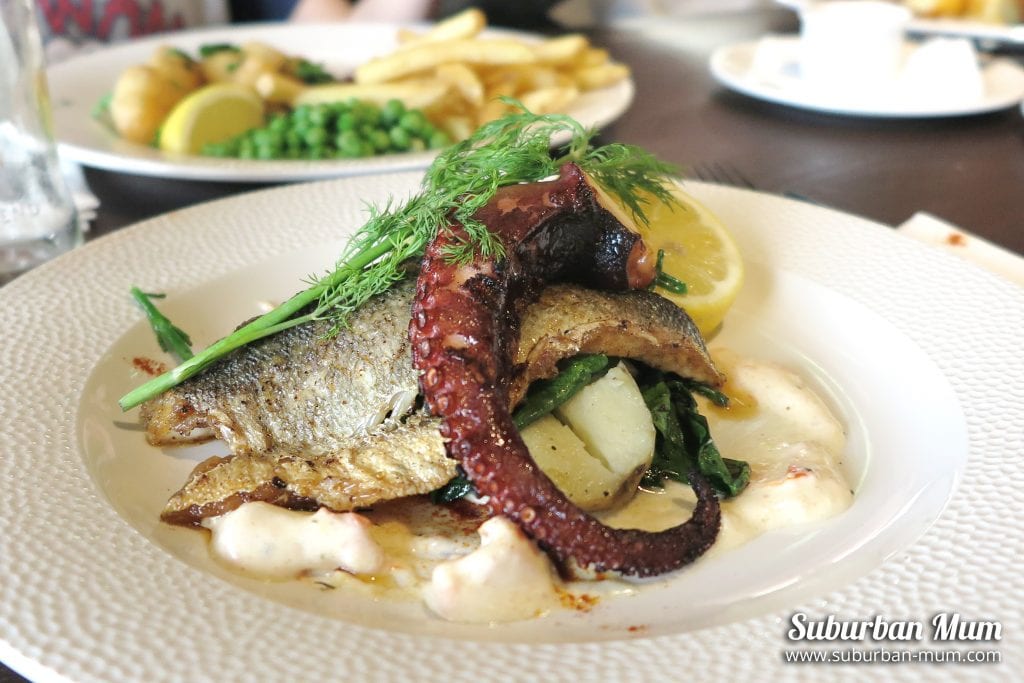 For dessert – we made sure we made room! M had the chocolate brownie with ice cream and E had two scoops of honeycomb ice cream. Mr H and I shared their very impressive Sharing Dessert Birdcage which consisted of three tiers and included a vanilla cheesecake, chocolate & pistachio smash, blackcurrant mousse & mango coulis, home-baked brownie and a french almond macaron & pecan praline. It was divine and it was a great way to end the meal.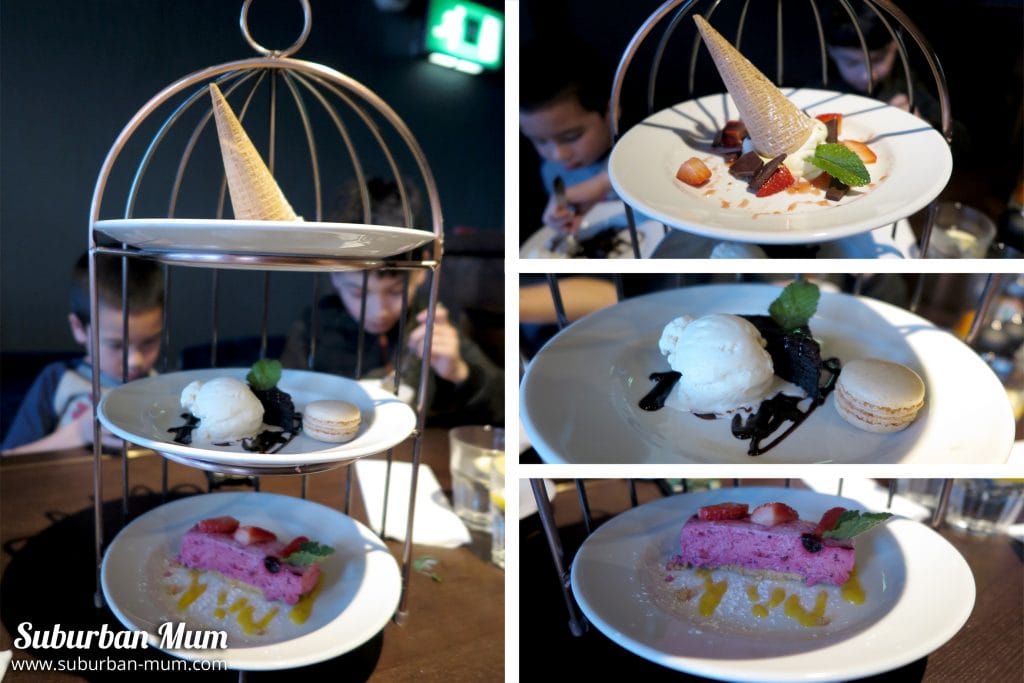 Service was a little slow, to begin with as it took a while for someone to come and take our order. As mentioned above, this was probably due to being understaffed though.
Overall, we enjoyed our meal at The Harts Boatyard, the food is tasty and it's in a great location with amazing views over the Thames. You can find out more about The Harts Boatyard and view their current menus by heading over to their website.
You might also like: