Summer 2012 saw most of the country glued to their TV screens as Olympic fever took over. I literally lived and breathed the Olympics that summer. Being pregnant with M at the time (I was a hot sweaty mess), I never got the chance to visit the Olympic Park so when VTech got in touch and invited us along to the launch of their new stroll and grow trike at the Olympic Velodrome I knew I had to say yes!
You might think (as I did initially) that a trike would be too old for my boys. I had to double check with Vtech that they had, in fact, invited me to the correct event. It turns out that the new Vtech 5-in-1 Stroll & Grow Trike is suitable from 9 months right up to the age of 6. Meaning that M, at 4 was closer to the top of the age range.
The Velodrome was the perfect setting for road testing these trikes. M didn't need asking twice and couldn't wait to hop on one. He had his switched to "drift mode" and off he went pedalling away at speed and loved drifting along.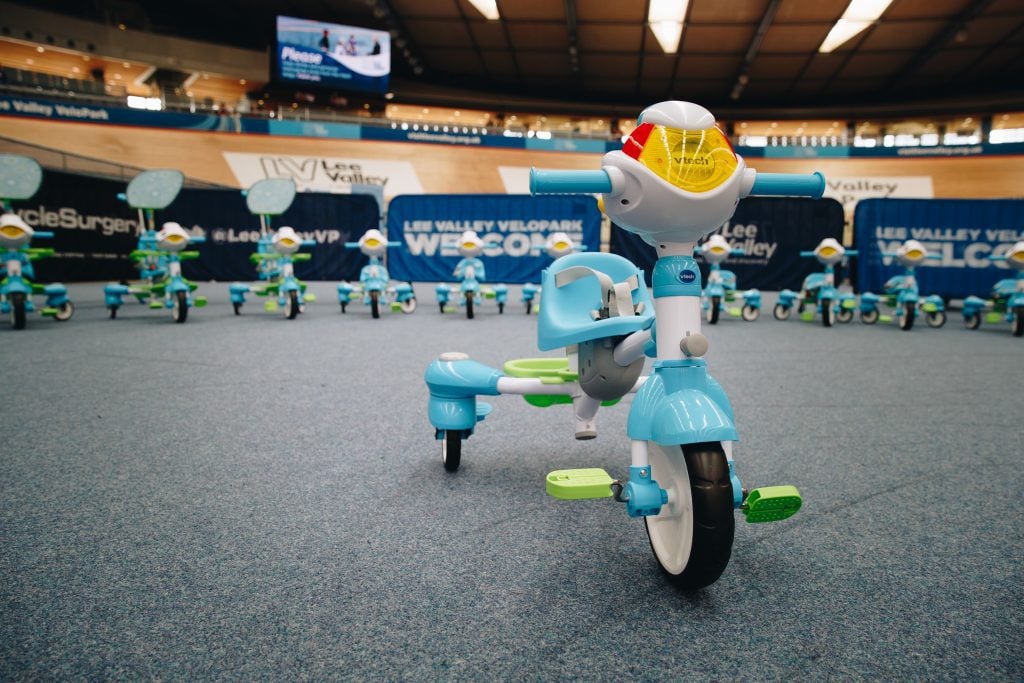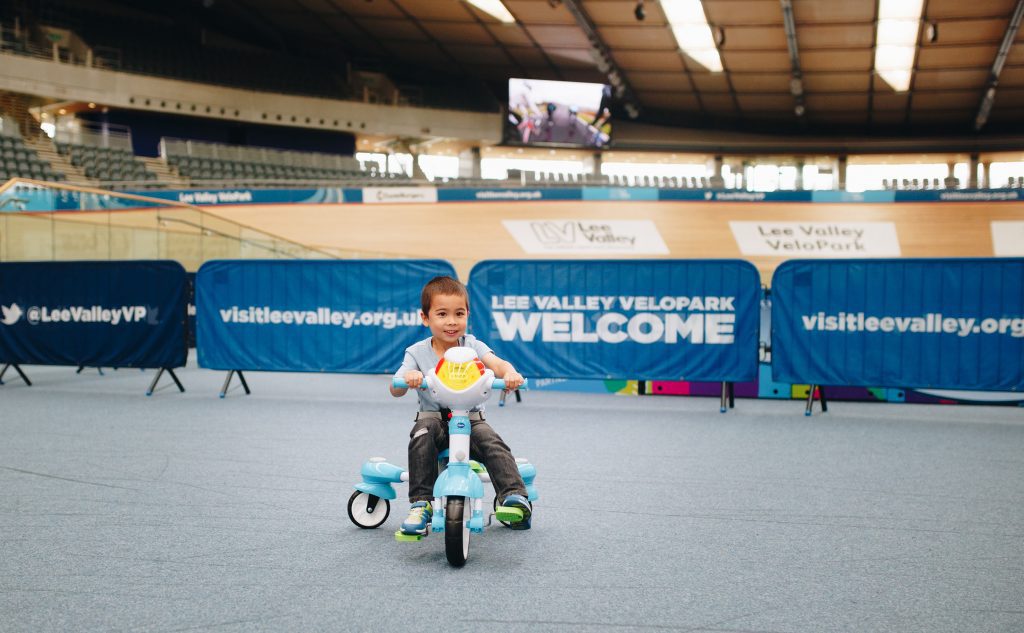 E also had a chance to get in on the action too and there was also an opportunity to race against others. The two of them happily spent the afternoon whizzing around the velodrome and were like pros by the end of the day!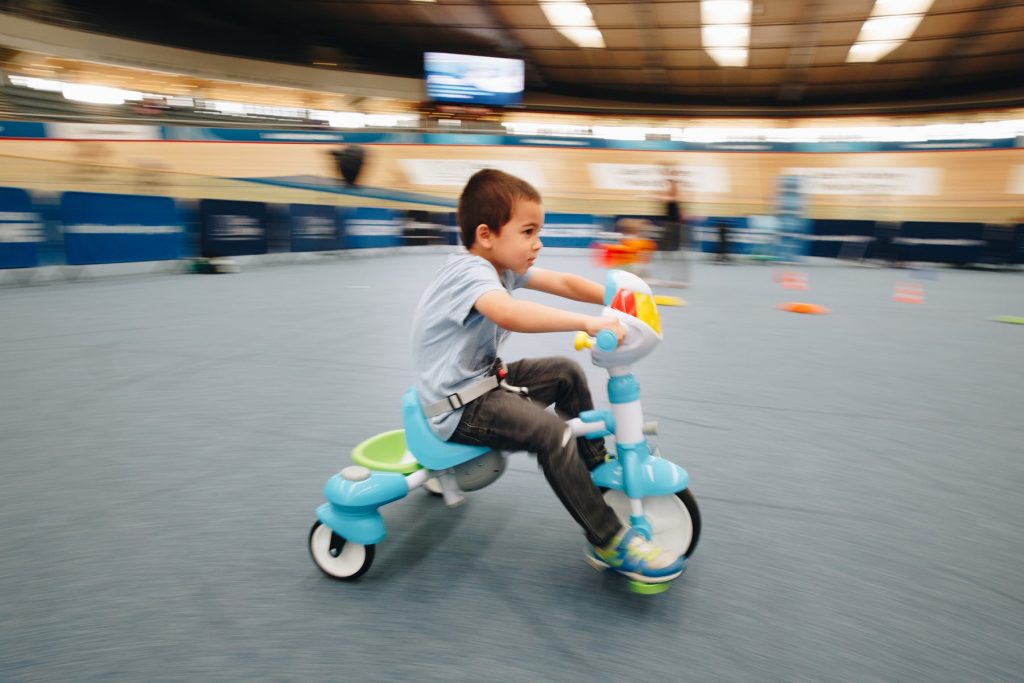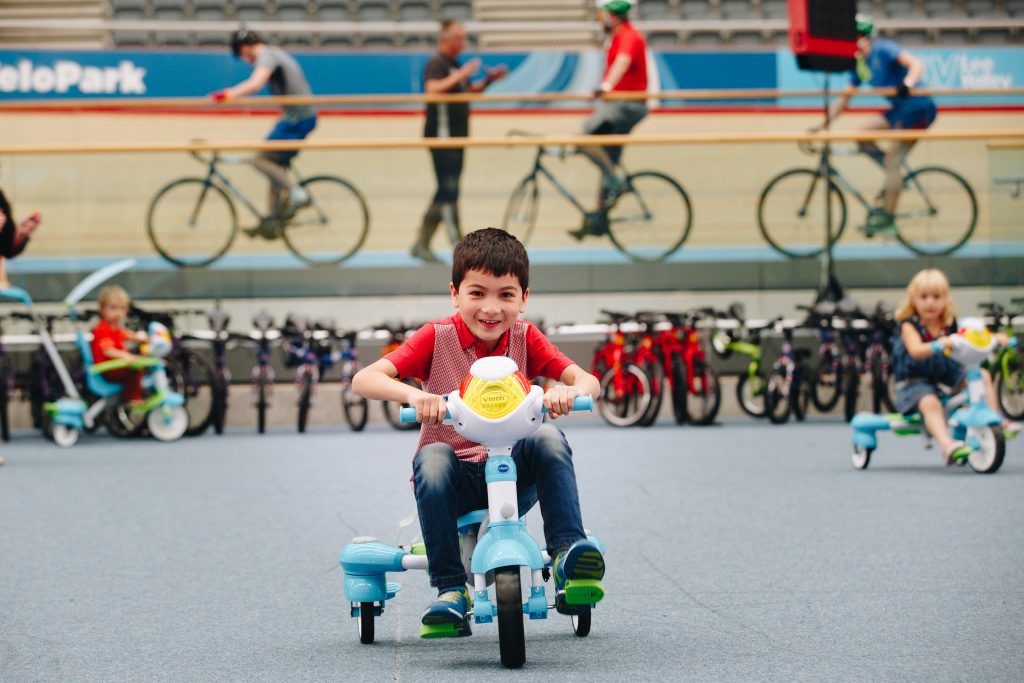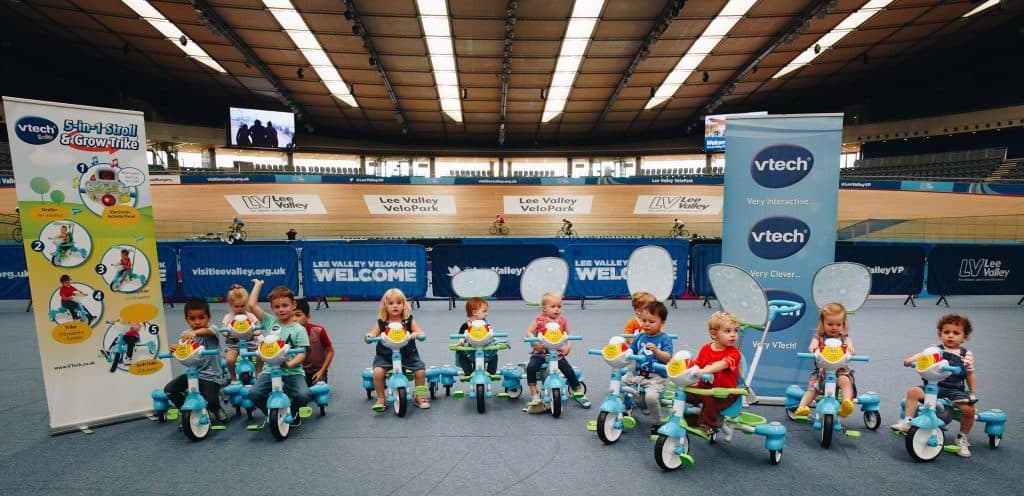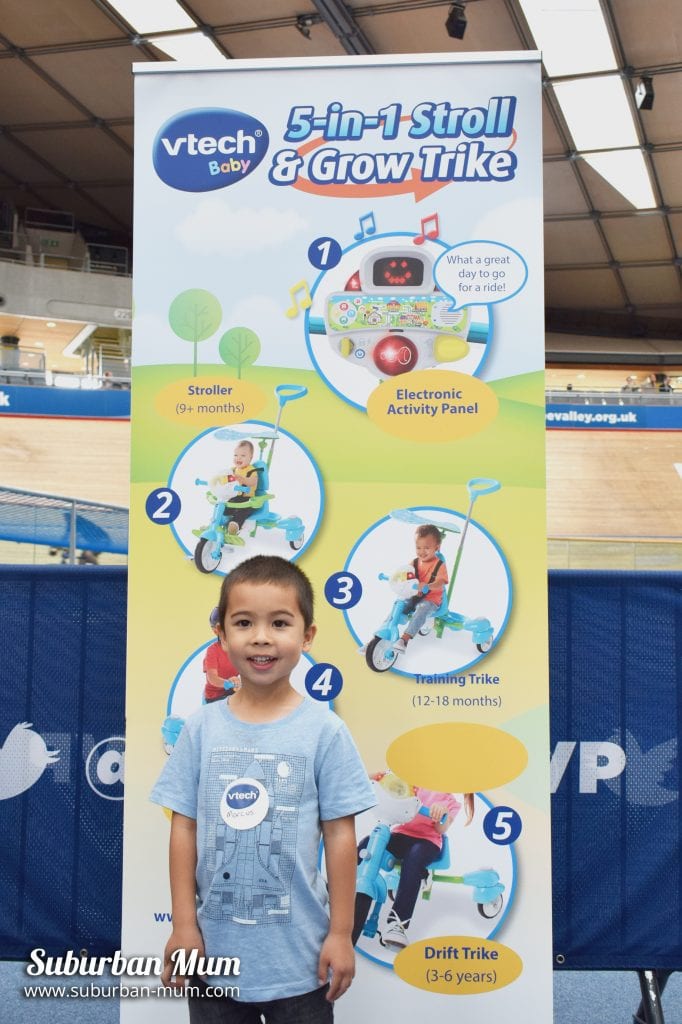 For younger children, the trike comes with a sunshade and a handle which is useful for pushing your children around in. There's also an activity panel with lights, sound and music that help encourage your little ones to play and learn to pedal.
There are four modes (excluding the activity panel) to suit the different age ranges.
| | |
| --- | --- |
| | Electronic Activity Panel with LED screen, lights sound and music |
| | |
| --- | --- |
| Stroller – for children 9+ months, this has extra panels to rest your little one's feet on as well as a safety bar | |
| | |
| --- | --- |
| |  Training Trike for children 12+ months who can now reach the pedals and learn to use them |
| | |
| --- | --- |
| Trike for children aged 2-4 who are learning to steer and pedal without the need of the parent handle at the back | |
| | |
| --- | --- |
| |  Drift Trike for children aged 4-6 who have mastered pedalling and now want to have fun drifting |
I think the activity panel is probably more suited to younger children, M wasn't overly bothered by it and much preferred the physical activity of cycling. However, I can see this being a good tool for distracting younger children when you are out and about. I also was pleased to find out that the panel is waterproof so you needn't worry if you are caught out in the rain and are able to leave it outside if you don't have much space indoors. (the trike does take up a bit of room)
Overall, the 5-in-1 trike has been given a thumbs up from M. It currently retails at £109.99 and given that the trike will last a good few years I think it's good value for money.
I think it's a great product that can grow with your child and would certainly vary trips to the shops or park.
The trike becomes a little trickier to take out for older children but having said that, you would use this differently and would treat it more like a bike anyway. The drift mode is super fun (see video below) but you would need a big outdoor area to be able to make the most of this feature.
Watch the video we made of our day at the Olympic Velodrome
We have loved taking the trike outdoors and made the most of the end of summer by taking it along with us to our local park – Nonsuch. We're very lucky to have such big open spaces close by and we made good use of the pathways to build up enough speed to drift – even my brother decided to try and have a go!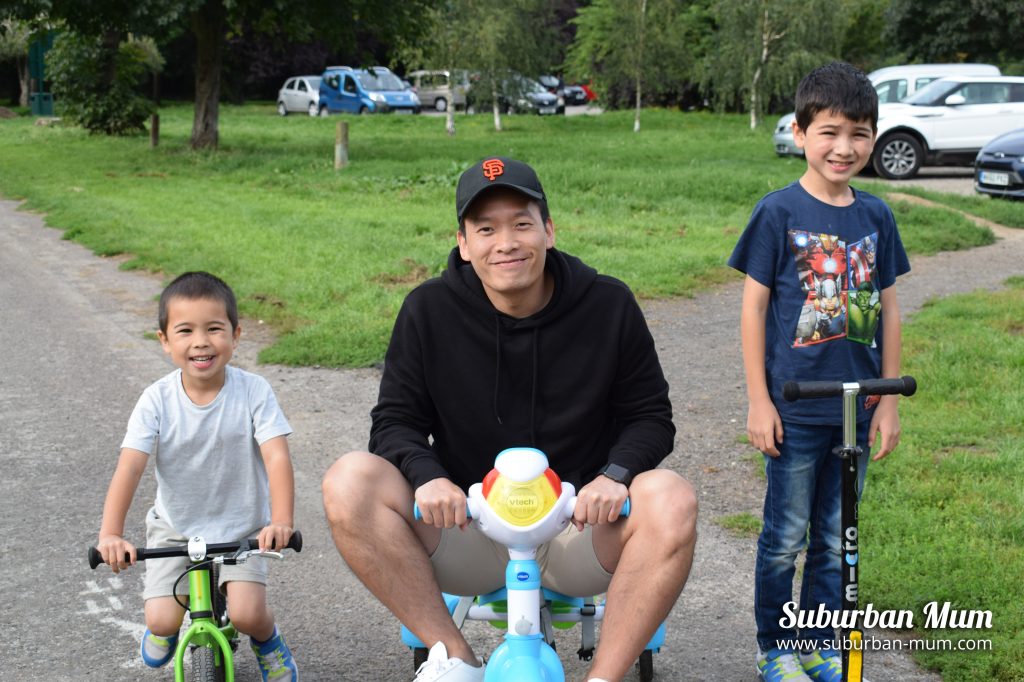 You can check out our route below – you'll also get to see the gorgeous Georgian Nonsuch Mansion along this route. Don't forget to pop into the cafe for refreshments along the way!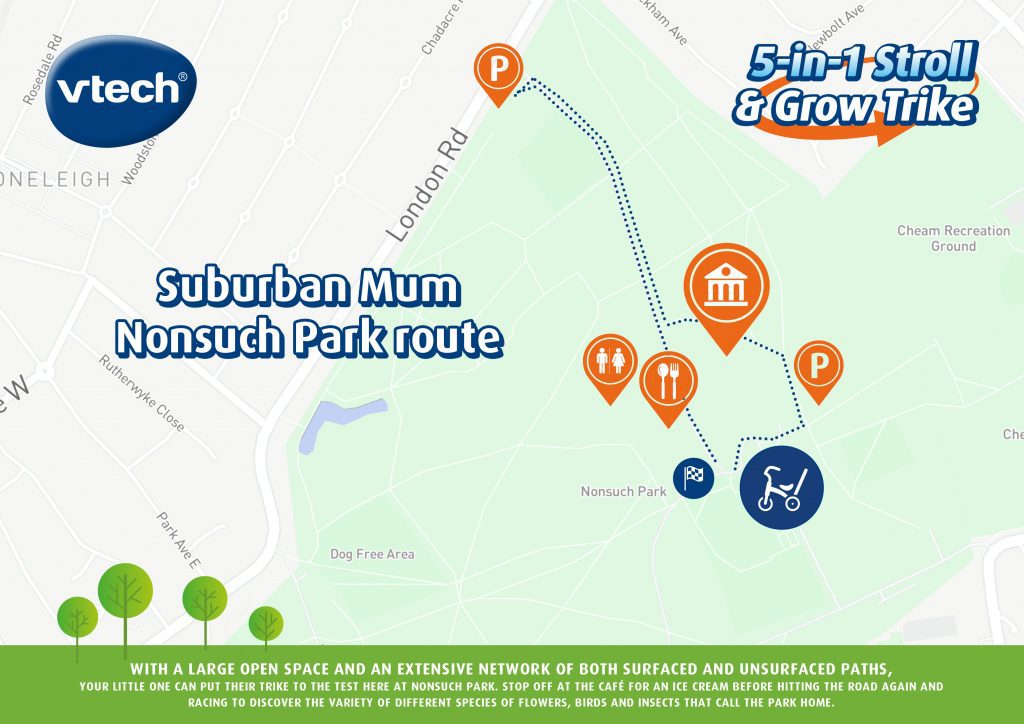 * We were invited to the VTech Tour De Trike event and received the 5-in-1 Trike for the purpose of this post