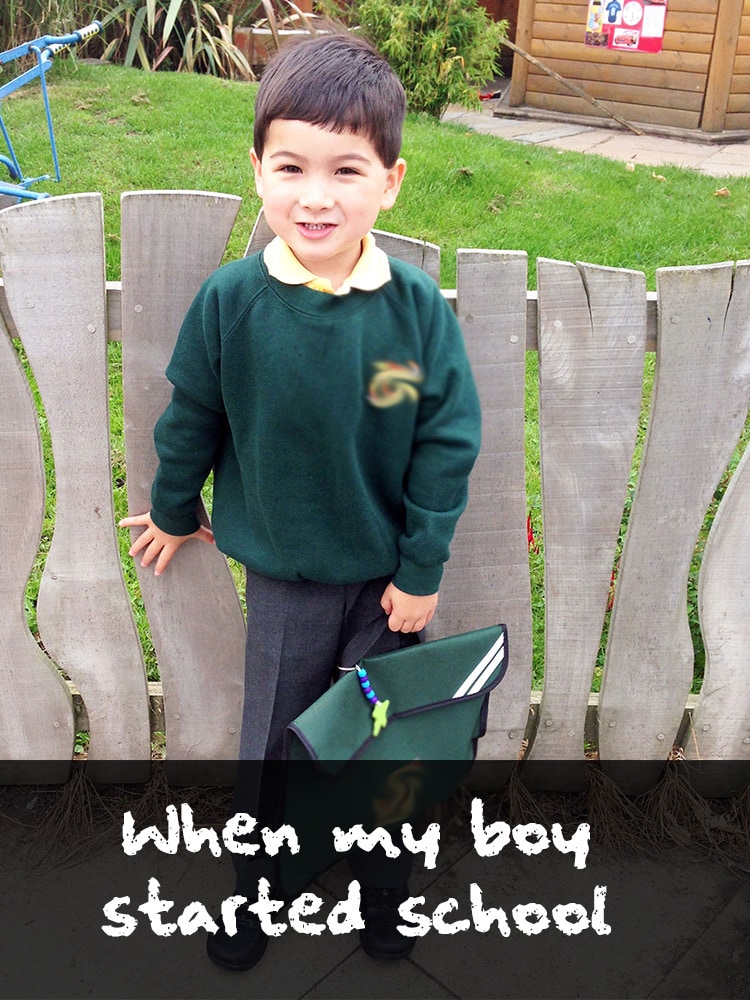 This time last year E was about to start reception (we call it big school) and to be quite honest the thought of it had me feeling excited yet also terrified me at the same time. I shed a tear (or two) much to my son's bemusement at his nursery leaver's party last July where we bought gifts for his keyworkers and thanked them for taking such good care of him.
E was always on the go at nursery and rarely did he bring me home any drawings because he was always too busy running around having fun. His keyworkers would lay out arts and crafts activities right next to the physical ones to encourage him to sit still.
Preparing for school
That summer, I felt that I should attempt to prepare him for school, so we set aside 5-10 minutes each day for him to trace over letters and numbers. I never pushed him into doing anything he didn't feel like doing though and to begin with he had more interest in tracing numbers than letters. That then turned into drawing and doodling which he started doing every single day and it has since become a real passion. Towards the end of the summer we found out that one of his nursery friends had broken her leg. E made a "Get Well Soon" card and wrote out his friends name through copying my writing- by the end of the summer he had learnt to write his own name!
We talked, sometimes at length about the fact he would be going to big school and that he would have a new teacher (Mrs Patel) the name of his class and that he would be making new friends. Luckily for me, none of this seemed to phase him, but he had started waking up at least once or twice a night, coming into our room asking to be tucked in. I put this down to the fact that he could sense my worries and apprehension on him starting school as well as probably his own feelings towards this imminent new phase.
I had so much on my mind, having only turned 4 in May he would be one of the younger ones in his class. His friends from nursery were going to a different school so I worried whether he would find it hard to make new friends and fit into the "school environment"
After his teacher came to visit I was put to ease a little. She was absolutely lovely, and I could see that E would feel very safe and be well cared for in her class. She answered all my concerns about needing help with going to the toilet and making sure he would eat enough of his school dinners to keep him full until hometime.
The big day
On the morning of the big day, E woke up and was very excited to be putting on his uniform. He looked so grown up! I had arranged for a friend to come over and look after M as I felt that E needed my undivided attention that morning. We did the obligatory "first school day photos" before we walked the short journey to school.
I felt rather nervous entering the school gates surrounded by lots of unfamiliar faces, but E took it all in his stride. I gave him the biggest squeeze and a kiss and said "Have a good day at big school – I will be here to pick you up later" and off he went into his classroom. He went quite happily, and there were no tears. He ready and excited for the day ahead.
At nursery, we would drop the children off into the main church hall where you could see all the different activities laid out for the day and where we'd be able to exchange a few pleasantries with the nursery ladies. At school – I didn't get to see what his classroom was like or what was laid out for that mornings activities. We weren't allowed in the classroom as such, and I found that quite hard to begin with.
I walked home with tears in my eyes. My boy was now at big school – I would not know what he was doing or how he was getting on for six whole hours! Thankfully I was working from home that week so I knew I had to get back and concentrate on work which worked out well as it meant I wasn't thinking about how E was at school.
No need for worry
I also needn't have worried about him not making any friends. It was a couple of weeks before he could name some of the children he played with, but as the school year went on he'd had a group of buddies he played with regularly and made a new best friend – they are now pretty much inseparable!
School wise he was also doing well – soaking up information he was taught my boy has a real thirst for knowledge and regularly tells me facts about random things that I sometimes don't have a clue about.
So if you are sending your children off to school for the first time next week – please try not to worry so much. You will have a cry at the fact that your baby is suddenly not your baby anymore, but they are more ready and able than we give them credit for. We learn to loosen those reins a little and while it can be hard to do there is still no one that can ever replace our role as "mummy" It's just that now is the time they learn to become a little more independent and find out for themselves what the world is about. If your child is anything like mine, they will make friends, have the best time and above all be very happy at school.
I promise.